Syria
Army Forces Advance towards ISIL's Last Base in Syrian Desert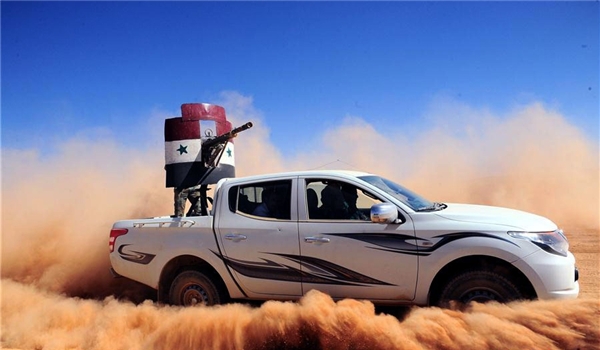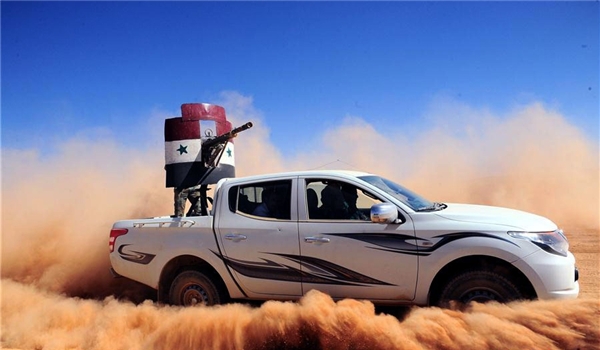 The Syrian army intensified anti-ISIL military operations in Eastern Hama, decreasing its distance from the terrorist group's last bastion in Badiyeh (Desert) area in Syria.
The army troops launched massive operations in Eastern Hama, retaking control of a number of points and heights near militant-controlled Aqayrabat in Eastern Hama, as ISIL's last and most important base in Badiyeh.
A military source said that the Syrian forces have retaken military control of several villages and towns in Eastern Hama after this advance, crippling the ISIL moves effectively and tightening the noose on them in Badiyeh; specially when other Syrian forces have reached the borders with Iraq.
The source also added that the Syrian forces are less than 30km away from Aqayrabat.
Meantime, the Syrian army is concurrently launching operations in the mountains of Eastern Palmyra and Eastern al-Salamiyeh region from Sheikh Hilal road, advancing in certain areas.
Reports said earlier today that the Syrian army soldiers backed by the country's air force continued their military operations against the ISIL in the Eastern countryside of Hama and recaptured new areas.
The Syrian troops stationed in Eastern Hama engaged in clashes with the ISIL terrorists and regained control of several regions in the direction of the oil pipeline Southeast of the town of Aqarib in Eastern Hama as reinforcement forces and equipment were dispatched to the region.
In the meantime, the Syrian army's artillery and missile units backed by the country's air forces targeted ISIL's military positions in al-Barqoutiyeh, Arshouneh, Salam, al-Haradaneh and Eastern direction of oil pipeline.
The Russian choppers called as 'flying tanks' also hit hard ISIL's military positions in al-Barqoutiyeh and al-Haradaneh villages and inflicted heavy casualties and losses on the terrorists.
Russian bombers also created hell for ISIL in areas between al-Salamiyah and the militant-controlled Aqayrabat in Eastern Hama, killing 20 Takfiri militants and destroying 5 vehicles.
The Syrian and Russian fighter jets carried out a number of combat flights over ISIL's supply lines to the strategic town of Aqayrabat on Monday as Army troops continued operation in Eastern Hama to expel terrorists from the region.