Iran
Middle East
Technology
As crypto fever grips Iran, government rolls up sleeves
Iran's government is cranking up pressure on illegal crypto mining, requiring digital currency miners to register their rigs.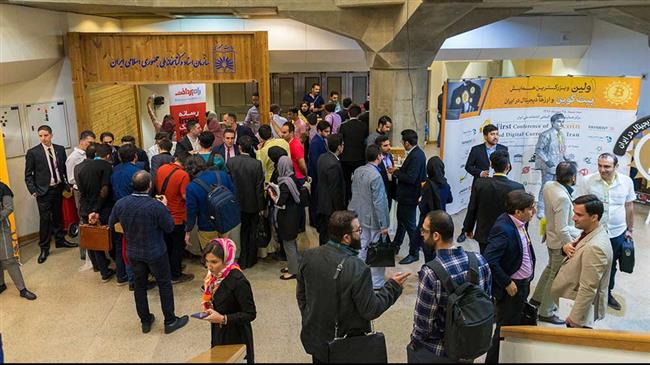 The directive announced by Vice President Es'haq Jahangiri is the latest measure by the government to put an end to a cat-and-mouse game with illegal crypto miners who smuggle in machines.
Under the directive, miners will have to disclose their identities, the size of their mining farms and their mining equipment type with the Ministry of Industry, Mine and Trade.
They will have a month to register their equipment, according to the ministry, which will then publish a list of licensed mining centers.
Iran has been trying its hand in cryptocurrencies for quite some time, but regulatory uncertainty over the future of digital transactions within the country is throwing a wrench into broader plans.
The government's conflicting mining policies, tariffs and laws have created confusion among crypto miners and left them in a gray zone for years.
Officials said the new directive announced Monday aims to "eliminate the confusion of cryptocurrency activities".
The directive will give the government tighter control over miners, though it remains to be seen how much of the underground community will heed it.
While there is no precise tabulation on cryptocurrency mining in Iran, one electrical industry spokesman has put the number of bitcoin mining machines north of 148,000. According to Digital Currency Group, Iranian miners contributed nearly 4% of bitcoin's hashrate in April.
That month, Iranian media reports said iMiner, a cryptocurrency company registered in Turkey, had been granted a license to mine digital coins and offer trading and custody services in Iran.
According to Tabnak news website, the bitcoin mining farm set up by iMiner with 311 billion rials ($7.3 million) of investment is the biggest in Iran, where 6,000 machines will be producing cryptocurrencies.
Sanctions busting potential
After its initial qualms, the government has been warming to cryptocurrencies to support international trade at a time when draconian US sanctions are sealing Iran off from the global financial system. In August 2019, the cabinet issued a regulation that recognized digital mining as a legal sector in the economy.
Under US pressures, the global banking network SWIFT has dropped Iran from its platform, making international financial settlements with the country almost impossible.
Blockchain and other digital ledgers holding cryptocurrency records process transactions without being controlled by any person or entity.
Bitcoin is now increasingly used by the Iranian government and public and cryptocurrency mining activity is accelerating, generating a rising army of miners who are lured by the cheap cost of electricity and the devaluation of the Iranian rial.
Bitcoin mining consumes large quantities of energy because it uses costly software to solve complex math puzzles to validate transactions in the cryptocurrency. The first miner to solve the problem is rewarded in bitcoin and the transaction is added to the blockchain or digital ledger.
However, the murky aspects of the crypto world which provide a backchannel to moving money out of the country have prompted the government to batten down the hatches.
Last year, government officials announced plans to launch a national cryptocurrency backed by the rial—Iran's national currency. The central bank later revealed multiple blockchain projects, one of which is reportedly already being tested by four Iranian banks, including those under US sanctions.
Other countries have shown interest, including Switzerland, South Africa, France, England, Russia, Austria, Germany, and Bosnia-Herzegovina which have held negotiations with Iran on the use of cryptocurrencies in financial transactions.
Russia reportedly signed a contract in 2018 to develop Iran's blockchain industry, while Sweden authorized a local start-up in 2017 to invest in firms on the Iranian stock market by using bitcoin.
Countries with cheap electricity have emerged as major hosts of cryptocurrency mining. China is a major player in the bitcoin market, hosting a substantial share of miners.
In the past, Chinese cryptocurrency miners have officially requested to set up shop in Iran, taking advantage of cheap energy to power and cool their electricity-intensive servers.
Evolving market
The US government has reportedly warned digital marketplaces that buy and sell bitcoin and companies that sell computers used to process bitcoin transactions to avoid providing services to Iranians.
US lawmakers have called for a bill outlawing cryptocurrencies, because they can help governments skirt sanctions.
That is because an awful lot of the US power comes from the dollar being used as the standard unit of international finance and transactions. The use of bitcoin is eating at that advantage and effectively disempowering the United States.
However, the cryptomarket is undergoing a contestant developmental change which puts it completely outside the purview of the current US-led global financial architecture.
For example, central banks across countries are issuing local digital money which runs on private blockchains. A case in point is top US rivals China and Russia which have been working on these projects for some time, with the Chinese sovereign coin or "digital yuan" expected to be launched this year.