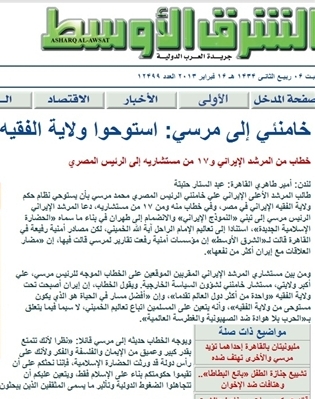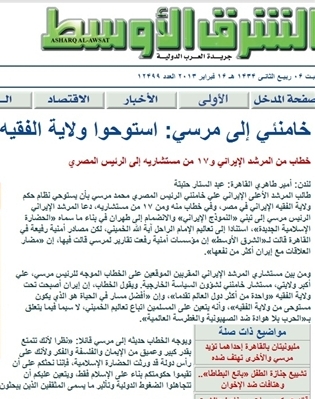 In a letter to Egyptian President Mohamed Morsi, 17 Iranian scholars and academics say they are ready to transfer their experiences, and academic, scientific capabilities to Egypt.
In a very immoral movement, Asharq Alawsat newspaper headlined this news as 'Iran's Supreme Leader guidance call for Morsi to follow.'
Asharq Alawsat with devious headline "Iran Supreme Guide Calls on Morsi to Follow Khomeinist Political Model," has attempted to suggest the readers that Iran is trying to implement the 'IRI Model' of revolution in Egypt, by interfering in internal affairs of Egypt.
Asharq Alawsatis published in London and is a close affiliate of Al-Saud family, and financed Saudi princes.
It appears that AsharqAlawsat, which represents extreme Salafist views of Saudi Arabia, is trying to muddy the waters for Iran and Egypt relations, and to stir negative feeling in Egypt against Iran and Islamic Republic.
Of course, Asharq Alawsat devious intentions are not ending with just a headline. In the past they also have done similar actions, by publishing false news, and attribute it to Fars News Agency, one could see much more examples of their devious and false measures against Iran by searching in Google.