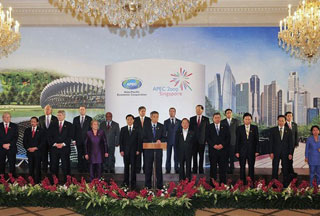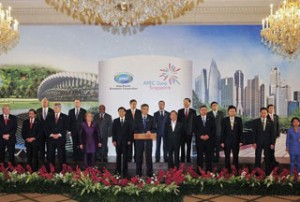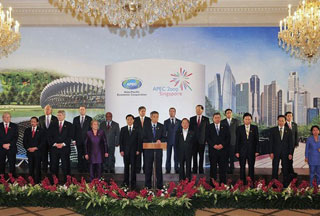 APEC government leaders have ended their summit with a final statement that removed references to backing "market-oriented currency rates" that was included in a draft statement.
Leaders at the annual Asia Pacific Economic Cooperation (APEC) summit pledged in a final statement, released Sunday, to reject trade protectionism and follow a new approach for growth in the current economic crises.
The statement on the last day of the talks in Singapore said that APEC rejects "all forms of protectionism".
According to the statement, the heads of the 21 Asia-Pacific Economic Cooperation forum vowed to continue economic stimulus policies until recovery is assured, but failed to agree on a reference to currencies, a major headache for Asian economies.
"We resolved that we would aim to overcome the crisis within 18 months," leaders said in the statement.
"Economic recovery is not yet on a solid footing," they said. "We will maintain our economic-stimulus policies until a durable economic recovery has clearly taken hold."
The release of the statement had been delayed because of discussions between the US and China on the sidelines of the summit.
Several APEC leaders have been critical of the imposition of recent trade restrictions by Washington.
Barack Obama is to leave Singapore Sunday for China, where one of the major themes of the visit will be the Chinese yuan which has effectively been pegged against the dollar since the mid-2008 to cushion the Chinese economy from an economic decline.
Washington says an undervalued yuan is contributing to imbalances between the United States and the world's third-biggest economy.
Obama kicked off his week-long Asian tour in Japan on Saturday.