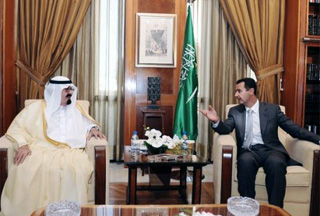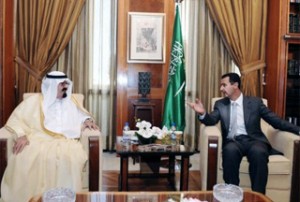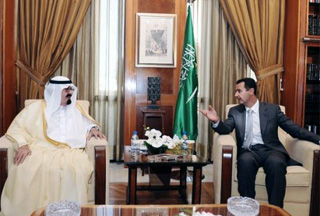 Photos of Hezbollah leader Seyyed Hassan Nasrallah and Iranian President Mahmoud Ahmadinejad on the desk of the Syrian president have shocked the visiting Saudi king, a report says.
Citing Syrian sources, Rajanews website reported that King Abdullah, in his recent visit to Damascus, was astonished to find photos of Nasrallah and Ahmadinejad on President Bashar al-Assad's desk.
The report added that King Abdullah's talks with Assad included discussions on Iran's regional policies, Middle East security and the Muslim world.
According to the report, Assad rejected Saudi 'preconceptions' about Tehran and said Iran is the only country that "sincerely" supports the Arab and Muslim countries.
The Syrian president then detailed Iran's efforts to find and resolve issues that can create discord among Muslims, the report added.
As Assad was explaining his position on Iran, King Abdullah chose to keep silent and nod in approval, the report said.