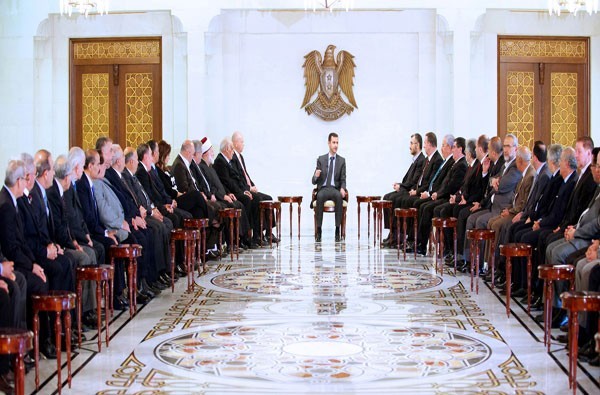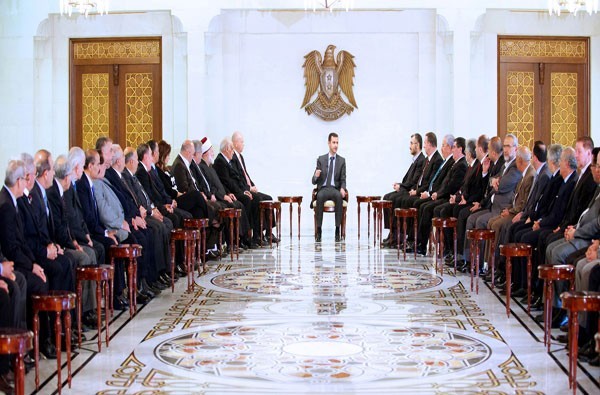 Syrian President Bashar Al-Assad expressed his resentment of Lebanon's disassociation policy, considering that a party cannot disassociate itself if it is in the ring of fire, and fire is approaching it, As-Safir newspaper reported on Monday.
The Lebanese daily added that "Assad wondered: I don't get it. What does this policy mean exactly? Does it mean that Lebanon will move from its current location to Africa, and when the Syrian crisis ends, it would return to its normal location?
Sunni Sect
As-Safir said Assad tackled the Sunni sect's role in Lebanon.
"He stressed the significance of this pan-Arabism sect, which we derive our power from. It is a reference in national affairs, and has a great effect in this field."
The Syrian president pointed out that after several incidents, "they tried to involve it in a sectarian struggle and transform it into a militia. However, Lebanon would only reach stability if the Arabism and nationalism of this dear sect was corroborated."
He stressed that "Syria is not being dragged to sectarianism; the Syrian society had rather become more cooperative, ideological, and national in confronting the challenges of this crisis."
"The Syrian army is cohesive, and there is no sectarian categorization in its ranks, knowing that they (the other side) tried hard to provoke sectarian instincts, but they failed in achieving that," Assad was further quoted as saying.
Situation on Ground
According to the Lebanese daily, Assad expressed his relief regarding the developments on ground, as he indicated that the Syrian leadership's strategy focuses on keeping Damascus and other cities under the army's control.
"As for countryside regions, we intend to clear them out for tactical necessities; and it is better to consume them before they consume us, knowing that we are capable of regaining the region anytime we want."
The Syrian president stressed that "the so-called "Free Syrian Army" is actually finished. We are now fighting Al-Qaeda, and there are fighters from 23 foreign nationalities fighting in Syria now."
Assad indicated that "many sides have demanded us at the beginning of the crisis to put an end to the situation immediately. However, anyone responsible cannot deal with his land and people in this way, and if we took this action when the picture was still ambiguous, we could have lost some friends; instead we got some opponents on our side."
Arabs, Americans, and Turks
Assad assaulted the Arab League, considering it has "no horizons", and was primarily established to serve the English (in reference to colonialism), as it has never performed any Arab role, even in the days of late President Jamal Abdul Nasser.
Assad drew the roles of Arab countries, interfering in the Syrian crisis, as follows:
-Qatar practices flagrant intervention and funds it with large amounts of money…
-Saudi Arabia suffers conflicts in its administration, and the ruling family has divided itself; so I don't expect a big role for Saudi in the future.
– The Americans have been pragmatic since the beginning of the crisis, and after all, they will walk with the winner.
-Erdogan wagers on the Muslim brotherhood, and whoever criticizes our previous openness on Turkey, we tell him this openness made Erdogan lose inside his country, and in contrast, we gained the sympathy of many Turks.
SANA
In parallel, the Syrian News Agency, SANA said that Assad received on Sunday a delegation representing Lebanese national parties, forces and figures, and discussed with them developments regional and local developments.
The Syrian president told his Lebanese guests that" the situation in Syria is improving due to the steadfastness of the Syrian people and their support to the Army."
Assad stressed that "there would be no reconciliation with Takfiri and terrorist groups… and Syria will sternly confront terrorism in all its forms in parallel with the government's work to implement the political program for resolving the crisis."
Assad further stated that "Lebanon's strength is not in its weakness, but in its strength," pointing out that "the political, cultural and social wealth and diversity of Lebanon and Syria bolster them in the face of the intellectual invasion targeting the region."