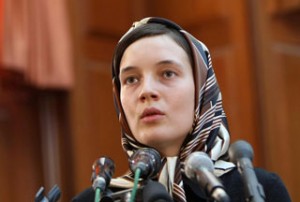 A report says Syrian President Bashar al-Assad is visiting Iran to secure the release of Clotilde Reiss, a French lecturer who was detained in post-vote unrest.
French President Nicolas Sarkozy has asked his Syrian counterpart in a telephone conversation to mediate between Tehran and Paris to release Reiss, French daily Le Figaro claimed.
The 24-year-old French academic was detained over a month ago in the course of Iran's post-election events and faces trial on charges of espionage.
In a court session on July 8, Reiss admitted to having gathered 'classified' information on Iran's nuclear program as well as the country's post-election developments.
She said the information was conveyed to the French Embassy in Tehran and about 50 friends or members of her family.
Her detention has soured political relations between Tehran and Paris with French officials rejecting her charges and calling for her immediate release.
The report said Sarkozy had also thanked Assad for helping release Nazak Afshar, the French embassy worker who was also put on trial in Tehran.
President Assad will arrive in Tehran on Wednesday on an official visit.