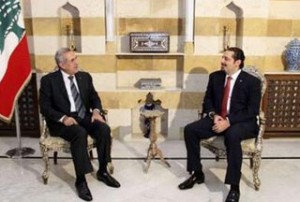 Syrian President Bashar al-Assad demands Lebanese officials speed up concerted efforts to form a national unity cabinet in Lebanon and restore order in the country.
"I confirmed the view of Syria on the necessity to speed up the formation of a national unity government, to bring the situation in Lebanon back to normal and to its natural role after years of turmoil and division," Assad said Thursday in Damascus during a joint press conference with Finnish President, Tarja Halonen.
Lebanese Prime Minister-designate, Saad Hariri, abandoned his first bid to form a national unity cabinet last month after the opposition rejected the team he proposed.
Hariri's proposal for a national unity government gives his March 14 alliance 15 of 30 seats in the new cabinet and the minority opposition March 8 alliance 10 seats. President Michel Suleiman appoint the remaining five ministers.
The Syrian leader also stressed the support of Damascus for Palestinians reconciliation efforts, "This reconciliation paves the way for negotiations leading to establishing peace in the Palestinian territory as well as easing the suffering of Gaza Strip Palestinians," Assad pointed out.
Hamas and Fatah have long been wrangling with each other over contentious issues, which have turned into internal Palestinian divisions..
Ever since Hamas won an outright majority in 2006 Palestinian legislative elections, the two factions have pursued bitter rivalry featuring sporadic fighting and tit-for-tat arrests.