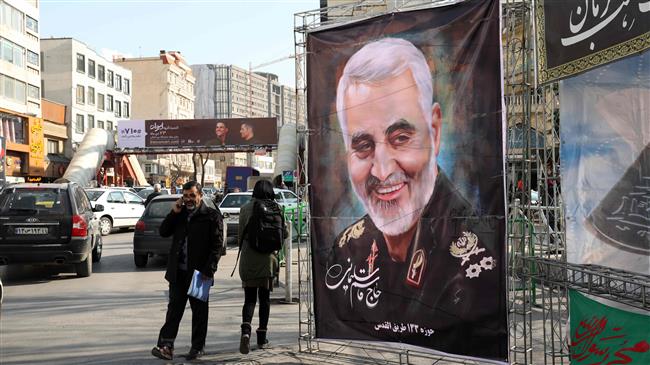 The Iranian Foreign Ministry says Washington's assassination of Iran's top anti-terror commander Lieutenant General Qassem Soleimani proves that the US administration is tops the list of the world's sponsors of terrorism.
"The targeted killing of Lt. Gen. [Qassem] Soleimani — an anti-terror legend — proved to the global public opinion that it is the US government that is the world's leading sponsor of terrorism," the ministry said in a statement on Monday.
On January 3, the US assassinated General Soleimani, commander of the Quds Force of Iran's Islamic Revolution Guards Corps, and Abu Mahdi al-Muhandis, the second-in-command of Iraq's Popular Mobilization Units (PMU), and a group of their companions in Baghdad. The operation was conducted with the authorization of US President Donald Trump. The US Department of Defense took responsibility for the assassination.
Both commanders enjoyed deep reverence among Muslim nations over their endeavors in eliminating the US-sponsored Daesh Takfiri terrorist group in the region, particularly in Iraq and Syria.
Pointing to an interview that Iranian Foreign Minister Mohammed Javad Zarif had with the German-based Der Spiegel magazine at the weekend, the statement said, "One of the objectives the US is pursuing in its diplomatic battle with the Islamic Republic of Iran is to depict a belligerent image of the country — an image it had attempted to shape for several decades through propaganda and psychological warfare."
Elsewhere in the statement, the ministry said, "The United States makes every effort to take Iran's upper hand — that is the 'support for the legal negotiations [that resulted] in the JCPOA' — from Iran and portray an 'anti-negotiation' picture of Iran, and finally replace the JCPOA with an illegal, imposed negotiating table."
The Joint Comprehensive Plan of Action (JCPOA) was signed between Iran and six world states — namely the US, Germany, France, Britain, Russia and China — in 2015. It was also ratified in the form of a UN Security Council resolution.
However, Washington's unilateral withdrawal in May 2018 and subsequent reimposition of anti-Iran sanctions left the future of the nuclear deal in limbo.
The Iranian Foreign Ministry went on to say that Iran's insistence that if the US is inclined to negotiation, it should return to the JCPOA Joint Commission meetings and lift all its sanctions and illegal measures against Iran indicates the Islamic Republic's upper hand in the diplomatic arena.
For an entire year since Washington's withdrawal, Tehran remained fully compliant with the JCPOA, waiting for the co-signatories to fulfill their end of the bargain by offsetting the impacts of Washington's bans on the Iranian economy.