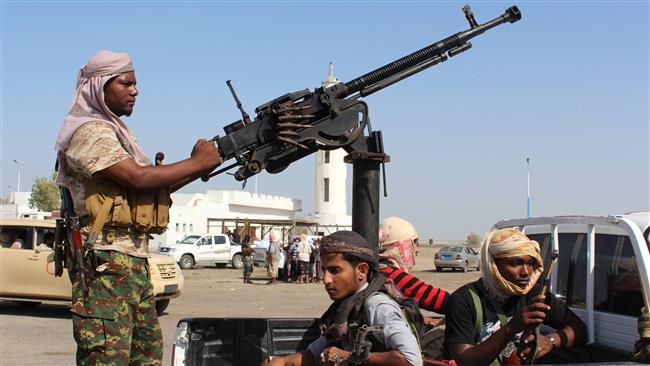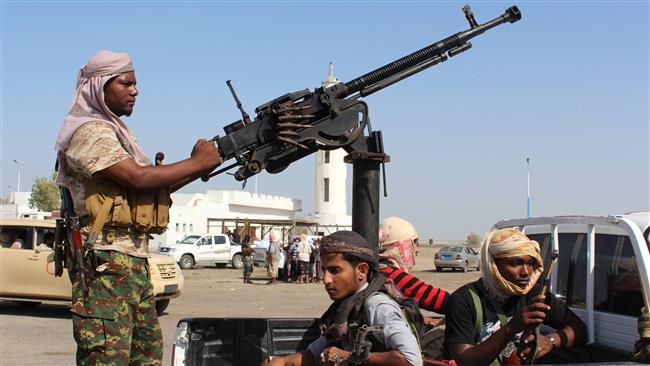 At least 13 troops loyal to Abd Rabbuh Mansur Hadi, Yemen's resigned president, have been killed when militants blew up vehicles outside the southeastern port city of Mukalla.
Several others were injured in the Thursday attack claimed by Daesh in the eastern outskirts of the Hadramawt provincial capital, which Hadi forces seized last month.
The deadly assault came shortly before Hadi's prime minister Ahmed bin Dagher arrived in Mukalla with several of his ministers on a one-day visit.
One bomber reportedly rammed an explosive-laden vehicle into the gate of a base in the Khalf district, followed immediately by a second who blew up a car in the center of the camp.
The attackers clashed with pro-Hadi forces outside the base immediately after the bombings.
A third bomber targeted the nearby residence of the commander of Hadramawt's second military region, General Faraj Salmeen, who escaped unharmed.
On Wednesday, another top commander of Hadi forces escaped an assassination attempt by a car bomber in southern Yemen, in an attack that also killed three people and injured others.
The bomber reportedly targeted Maj. Gen. Abdel-Rahman al-Halili, the commander of the First Army District in the Hadramawt province.
The Pentagon revealed last week that "very small number" of US military personnel has been deployed around Mukalla in support of the operation to seize the city.
The US Navy also has several ships nearby, including an amphibious assault ship called the USS Boxer and two destroyers.
Takfiri militants have exploited an all-out Saudi onslaught on Yemen to extend their control over areas in southern and eastern Yemen and recruit followers.
The growing Takfiri threat has spurred UN-sponsored peace talks between the Saudi-backed side and Yemen's Houthis now underway in Kuwait.
The two sides met on Wednesday and agreed in principle on a proposal to free half of the prisoners and detainees held by both sides ahead of the holy month of Ramadan, which starts in early June.
Saudi threatens ground attack on Sana'a
The Saudi military spokesman in charge of the Yemen invasion, however, said Tuesday a military operation would be launched to enter the Yemeni capital Sana'a if UN-sponsored peace talks failed.
Brigadier General Ahmed Asiri also defended the presence of Saudi troops in Yemen, saying it was not meant to invade the country or take its resources.
He sought to deflect international criticism over high civilian casualties, saying Saudi forces used precision-guided munitions to hit targets in Yemen to avoid harming civilians.
The Saudi campaign in Yemen has been increasingly criticized by human rights activists. According to the UN, airstrikes account for 60% of the civilians killed in the conflict, which have also hit markets, clinics and hospitals.
More than 9,400 people have been killed in Yemen in Saudi airstrikes since March 2015.