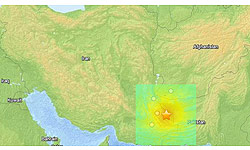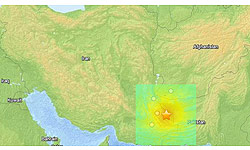 At least 35 people were killed and 80 injured in Southwestern Pakistan when it was hit by tremors from a 7.6 magnitude earthquake in neighboring Iran, Pakistani officials said.
The earthquake measuring 7.6 on the Richter scale jolted an area near the town of Saravan in Iran's Southeastern Sistan and Balouchestan province near the border with Pakistan on Tuesday.
The Seismological center of the Geophysics Institute of Tehran University registered the quake at 15:14 hours local time (1044 GMT).
The center said the epicenter of the quake was located in an area 62.03 degrees in longitude and 28.04 degrees in latitude. It added that the quake's epicenter was located in a desert area around 81km North of Saravan and in the depth of 95km.
Three women and two children were killed when their mud house collapsed in the district of Panjgur in the Pakistani province of Baluchistan.
"The earthquake has killed at least five people in Panjgur," said Ali Imran, an official of the Provincial Control Room, a government disaster-response unit in Quetta, the main city in the region.
Earlier unconfirmed reports said up to 1,000 homes were destroyed in the country because of the quake, tremors of which were felt as far as New Delhi and Persian Gulf states.
In the Baluchistan town of Mashkeel, several hundred houses collapsed, according to Mohammed Ashraf, the head of a local health center. Ashraf added that it was unclear whether there had been any casualties, according to Reuters.