Europe
At least 38 killed in Ukraine's Odessa fire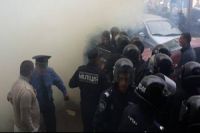 The Ukrainian Interior Ministry says a fire in a trade union building has killed at least 38 people in southern Ukraine.
"Thirty-eight people died as a result of the fire in the trade union building in Odessa. Thirty of them were asphyxiated by smoke and eight died when jumped out of windows in an attempt to save their lives," the ministry said in a statement issued on Friday.
Earlier in the day, clashes between pro-Moscow and pro-Kiev protesters in the same city left at least one person dead and several others wounded.
Local police said in a statement that the man had been shot in the chest, adding that he died before the ambulance arrived.
The violence in the largely Russian speaking port city also left dozens of people from both sides wounded.
According to police, protesters threw petrol bombs, paving stones and explosive devices during the clashes.
Tensions are also running high in other regions as Ukrainian troops continue military operations against pro-Russian protesters in the eastern regions.
According to Ukraine's interim president, Oleksandr Turchynov, many protesters have been killed on Friday during an offensive against the eastern city of Slavyansk.
The city is still under the control of pro-Russian protesters, as the advance of troops towards the city has been limited.
Also on Friday, Kiev confirmed that pro-Russian gunmen shot down two army helicopters near Slavyansk, killing two pilots. In addition, another pilot was injured and taken to hospital by the armed men.
Meanwhile, pro-Russian protesters near the city of Yasynuvata seized a rail control center for the Donetsk region.
Over a dozen cities in eastern Ukraine are under the control of pro-Russian protesters, including Luhansk, Kramatorsk, Donetsk and Horlivka.
Pro-Russia protests gained momentum in Ukraine after Crimea declared independence from the former Soviet state and formally applied to become part of the Russian Federation following a referendum in March.