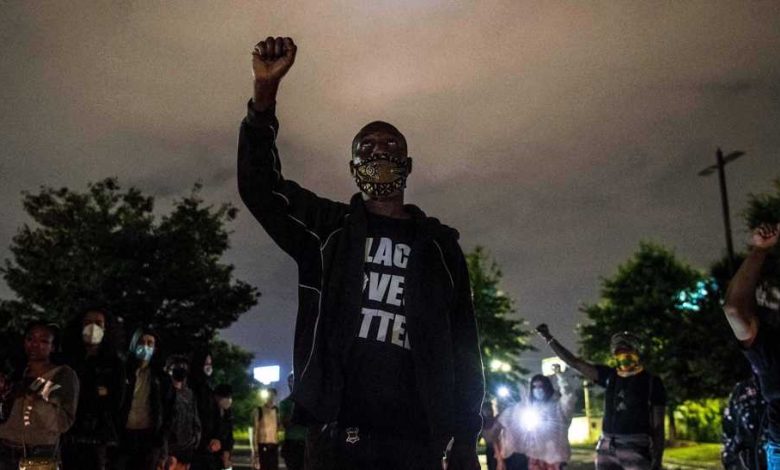 The protests were held in Washington DC, New York City and Atlanta, with people denouncing police brutality against African Americans.
The United States has been hit by nationwide anti-racism rallies following the death of African-American George Floyd at the hands of a white US police officer in Minneapolis, Minnesota, on May 25.
Floyd was choked to death after the officer kneeled on his neck for almost nine minutes.
Atlanta, Georgia, is now the epicenter of racial injustice protests after another African-American man, Rayshard Brooks, 27, was shot in the back by police and died in a restaurant parking lot in the city last week.
Protesters shouted slogans outside of a burned Wendy's restaurant as Brooks' fatal shooting by a white police officer sparked further outrage over the deaths of African-Americans at the hands of law enforcement.
'Police are Guardians not warriors'
Atlanta Mayor Keisha Bottoms called for a shake-up in police force and issued a series of administrative orders to accelerate a review of policing in the wake of the police shooting death of Brooks.
She ordered immediate police reforms on Monday, saying, "Our police officers are to be guardians and not warriors in our communities."
Bottoms described Friday night's police shooting of Brooks as a "murder" and said it "didn't have to end that way."
"It angered me and it saddened me beyond words," the mayor said.
Bottoms also outlined reforms including orders requiring police officers to de-escalate situations and requiring officers to intervene when they see another policeman using excessive force.
Georgia prosecutors said they were weighing bringing charges against the policeman who shot dead Brooks in a Wendy's parking lot.
The officer, Garrett Rolfe, was dismissed from the force and Atlanta's police chief resigned within hours of the shooting.
Calls for justice
Brooks' relatives called for justice and "drastic change" in policing. saying, "We're tired and we are frustrated."
"Most importantly we're heartbroken, so we need justice for Rayshard Brooks," his cousin, Tiara Brooks, said at a news conference.
"The trust that we have in the police force is broken. The only way to heal some of these wounds is through a conviction and a drastic change in the police department," she added.
Protesters marched on the Georgia state Capitol in Atlanta on Monday, calling for justice for Brooks and other slain African Americans.
"We are going to take over the capitol every single day until they do their job," the Rev. James Woodall, president of the state NAACP civil rights group, told the crowd, the Atlanta Journal-Constitution and other media reported.
President Donald Trump told reporters the shooting in Atlanta was "a terrible situation" and "very disturbing".
Brooks' widow, Tomika Miller, implored the public to protest peacefully in her husband's name.
"We want to keep his name positive," she said.
Protester shot in New Mexico
A protester was shot and wounded on Monday during clashes with heavily armed members of civilian militia group New Mexico Civil Guard in downtown Albuquerque, New Mexico.
The clashes took place near a museum, where demonstrators were reported to be trying to tear down sculpture of 16th-century Spanish conquistador Juan de Onate.
Police chief of Albuquerque, Michael Geier, said in a statement that police were receiving reports about vigilante groups possibly instigating the violence.
"Police used chemical irritants and flash bangs to protect officers and detain individuals involved in the shooting. The individuals were disarmed and taken into custody for questioning," the Albuquerque Police Department (APD) said in a tweet.
US anti-racism protesters venting anger over last month's death of George Floyd have taken to destroying statutes honoring the US Civil War's Confederacy, as well as sculptures of imperialists, conquistadors and other historical figures associated with subjugation of indigenous populations around the world, Reuters said.
FBI probes hanging deaths of black males in California
The FBI is looking into the deaths of two black men who were found hanged from trees in California.
Robert L. Fuller, 24, was hanging from a tree in Palmdale in the north of Los Angeles on 10 June, with the Los Angeles County Sheriff's Department saying that Fuller's death was "an alleged death by suicide."
However, investigators are now walking back claims that Fuller died by suicide. Los Angeles County Medical Examiner Coroner, Dr. Jonathan Lucas said officials "felt it prudent to roll that back and continue to look deeper."
People have also raised fears the death may not have been suicides.
The San Bernardino County Sheriff's Department is investigating another case of hanging.
According to a news release from the San Bernardino County Sheriff's Department, Malcolm Harsch, 38, hanged himself at a homeless encampment in Victorville on 31 May.
An autopsy was conducted on June 12. The forensic pathologist is waiting for toxicology results before assigning the cause and manner of death.
In a statement to AP, the FBI, US attorney's office in the Central District of California and the US Department of Justice's Civil Rights Division said that they were monitoring the investigations by the Los Angeles and San Bernardino County Sheriffs.