Iran
Atomic Chief: Iran Capable of Competing with World Scientific Powers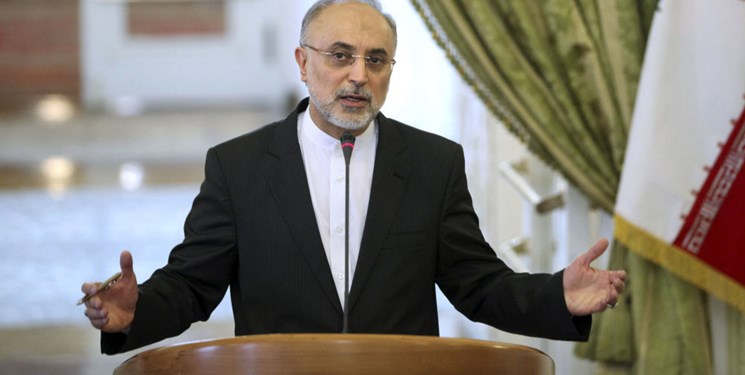 Head of the Atomic Energy Organization of Iran (AEOI) Ali Akbar Salehi said on Thursday that his country's scientists have shown so much capabilities and talents that they are now able to compete with the world's scientific and industrial powers.
Salehi made the remarks while visiting an exhibition of the 'Achievements of Nuclear Science and Technology Research Institute' in which two radio medicine were unveiled.
"Radio medicine are advanced technologies at the frontier of science; they are not easily accessible, and when we make radio medicine for $57,000 per dose, it means that we are locking horns with the world's industrial and scientific powers," he said.
Salehi said that the AEOI scientists enjoyed great potentials that was not known so far.
Iran on Thursday unveiled two new home-made radio medicine in a ceremony participated by Salehi.
The new radio medicine, LU177-Rituximab and LU177-Trastuzumab, have been produced to treat cancer patients.
Both radio medicines have successfully undergone the clinical tests at the nuclear medicine unit of Bushehr University of Medical Sciences.
Iran has taken long strides in producing different types of drugs and medical equipment.
Deputy Health Minister for Research and Technology Reza Malekzadeh had earlier announced that the Iranian scientists had produced 22 biological medicine, adding that 97% of the country's needed drugs are manufactured domestically.
"Our scientists have succeeded in the production of 22 biological drugs," Malekzadeh said.
"Also, the capable pharmacists of our country have been able to produce 97% of the medicine needed by the patients inside the country," he added.
Malekzadeh also underlined that cooperation between the AEOI and the pharmaceutical industry has led the country to approximate independency in the production of different types of radio medicine.
Also, the father of Iran's nuclear medicine underlined in February the country's high capabilities in nuclear medicine, and announced production of the most common drug for cancer treatment by Iran.
"Technetium is a radio medicine which is taken from molybdenum and is the drug with the highest consumption at the world's nuclear medicine centers," Dr. Mohsen Saqari, a Tehran University professor, told FNA.
He added that Iran was able to produce Technetium.
"Iran now exports technetium generator (or colloquially a technetium cow or moly cow, a device used to extract the metastable isotope 99mTc of technetium from a source of decaying molybdenum-99) to many countries and if we can produce molybdenum, we will become fully self-sufficient in this area and of course, today we have had many successes in radio medicine production technology," Saqari said.