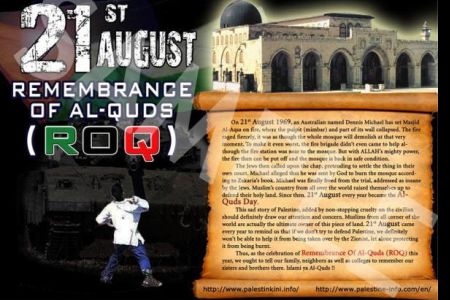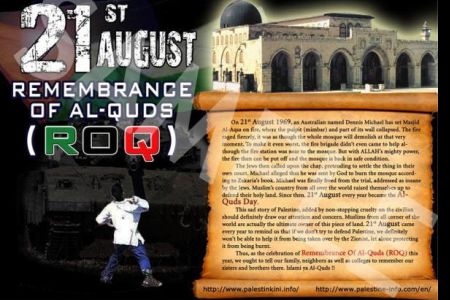 August 21 marks the anniversary of the 1969 al-Aqsa Mosque fire, the origins of which are still being disputed over 40 years after the incident occurred.
The Organization of Islamic Conference (OIC) designated this day both as a day to strengthen solidarity with the Palestinians and as an International Mosque Day, a Press TV correspondent reported on Saturday.
On the morning of August 21, 1969, a fire at the al-Aqsa mosque devastated the southeastern wing of the building, the area known as the 'Haram al-Sharif,' or Noble Sanctuary.
The extent of the damage triggered by the fire was costly as it destroyed a priceless 1,000-year-old wood and ivory pulpit (minbar) that had been sent from Aleppo by the great Muslim general, Saladin.
A complaint regarding the incident was submitted to the United Nations Security Council on August 28, 1969, by 24 Muslim countries.
Many blamed the Israeli regime for the incident; however, a non-Jewish tourist from Australia was later detained for having started the blaze.
On August 23, Dennis Michael Rohan was arrested for having started the fire. Rohan was an Australian Protestant and follower of an evangelical sect known as the 'Church of God.'
During his defense, Rohan said that he had acted as "the Lord's emissary" on divine instructions, and that he had tried to destroy the al-Aqsa mosque in order to rebuild the Jewish Temple on Temple Mount.
He was hospitalized in a mental institution, found to be insane, and was later deported from Israel and sent back to Australia.
Certain extremist Jewish groups have also been calling for the demolition of the al-Aqsa mosque and the takeover of the Haram al-Sharif in order to rebuild Solomon's temple (Haikal Sulaiman).