World News
Australians protest living conditions of Manus refugees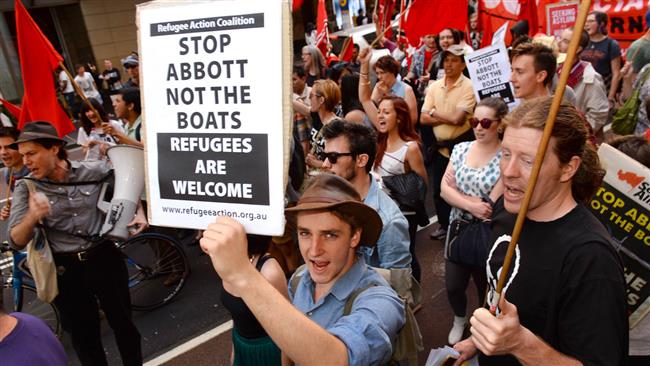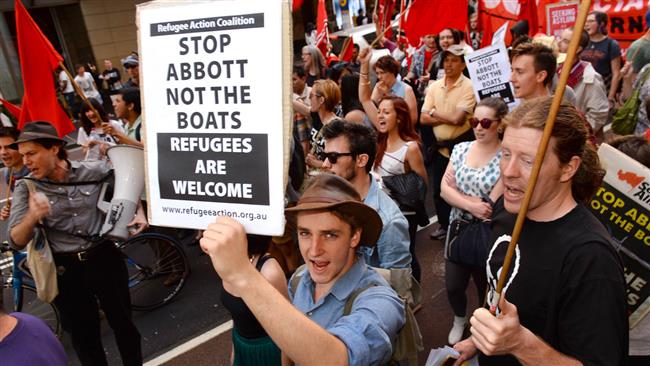 Australians have staged a protest rally in the capital, Canberra, to voice their outrage at the government's treatment of asylum seekers in a notorious detention camp on Manus Island.
The protesters took to the streets of Canberra on Thursday, calling on the Australian government to stop the harsh treatment of refugees and shut down the detention center on Manus Island in Papua New Guinea.
The protest rally was organized by the Canberra Refugee Action Committee.
The demonstrators also showed their solidarity with the asylum seekers in the Australian offshore processing center, who have been declining food for more than a week.
The asylum seekers are protesting against inappropriate living conditions, prolonged detentions and plans for their resettlement in Papua New Guinea.
Some asylum seekers have even resorted to self-harm in recent days to protest the plans to move them to new accommodation centers. Some of them have reportedly sewn their lips together or swallowed washing powder and metal filaments from disposable razors.
"Offshore detention centers are inevitably creating enormous damage to the people in them. They have no option but to take desperate measures," said John Minns, associate professor in politics and international relations at the Australian National University.
Australia uses detention facilities in Papua New Guinea and the tiny island of Nauru to hold up the refugees who attempt to reach the country illegally.
Reports indicate that over 1,035 men are currently held in detention in Manus Island.
The Canberra government has come under sharp criticism over its treatment of refugees.