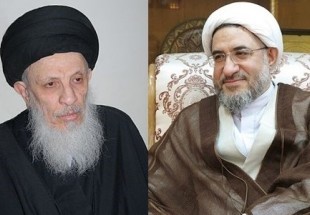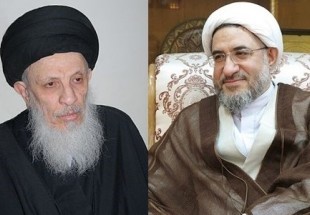 Iran's Ayatollah Mohsen Araki, secretary general of the World Forum for Proximity of Islamic Schools of Thought has met with grand Ayatollah Seyyed Mohammad Saeed Hakim, prominent jurisprudent in the holy city of Najaf, reported Taqrib News Agency (TNA).
Iranian cleric in this meeting provided a report on proximity convoy, including Shia and Sunni scholars, participating in Arba'een ceremonies, which was hailed by Iraqi religious leader.
Ayatollah Araki stressed necessity of maintaining sanctities of different Islamic denominations during Arba'een mourning ceremonies and said," Among the issues we pursued was to avoid any dividing sermons which might turn provocative for followers of other Islamic schools of thought which has led to some scholars being banned from public sermons."
Iraqi scholar highlighted Islamic unity as an important necessity among all Muslims and said," Any dispersing behavior should be avoided."
He said," We should spare no effort in bringing more affection and solidarity among Shia" demanding Ayatollah Araki to struggle for that end.