Egypt
Ayatollah Jannati warns about enemy plots in Egypt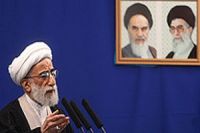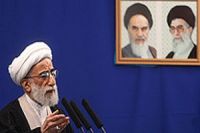 Tehran's Interim Friday Prayers Leader has expressed concern about the current developments in Egypt and continuation of violence in that country.
According to IRIB, addressing faithful prayers, Ayatollah Ahmad Jannati said in his sermons today that one of the important causes of the current violence in Egypt was the wrong positions adopted by the ousted president, Mohammad Morsi, vis-à-vis the Zionist regime of Israel.
Ayatollah Jannati said the government of Morsi closed the Rafah border crossing at the border with the Palestine's Gaza Strip, admitted Camp David Accord (with the Zionist regime), sent oil to the occupied lands called Israel, and also maintained friendly ties with the Zionist regime in contrary to the will of the Egyptian people; matters that raised fury and disgust of the public.
He then referred to the fact that the people of Egypt sought freedom and independence, and expressed hope that through maintenance of unity the Egyptians would reach an agreement concerning their country's issues and end conflict and bloodshed as soon as possible, for this benefited the enemies, the US and the Zionist regime in particular.
Tehran's Friday Prayers Leader also talked about murder of an African-American youth, Trayvon Martin, by a white American and the unjust court verdict of acquittal for the murderer, George Zimmerman, and reiterated that the claims in defense of human rights is a mere lie in the United States.
Ahmad Jannati, then, appreciated 8-years of endeavors made by the government of President Mahmoud Ahmadinejad and said that the government revived revolutionary slogans and discourse, underlining continuance of such attitude.
Ayatollah Ahmad Jannati also lauded ceaseless efforts made by the cabinet of the outgoing president, Mahmoud Ahmadinejad.