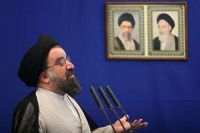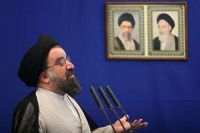 Tehran's interim Friday prayers leader Ayatollah Seyyed Ahmad Khatami has emphasized on the continuation of resistance against the Zionist regime.
According to IRNA, delivering his Friday prayers sermon, Ayatollah Khatami said the only solution to the issue of Palestine is the continuation of resistance against the Zionist regime and that other solutions are not helpful for the Palestinian nation.
Khatami said people's presence in today's World Quds Day rallies is on the basis of Quranic verses and Islamic traditions, being in support for the oppressed and against tyrants.
Ayatollah Khatami said Muslims today chant Down with the US and Down with Israel, thus voicing their resentment of Zionists crimes and support for the oppressed.
He said the tyrant US government uses the chance, gained out of Muslims ignorance, to proceed peace talks and this is followed in the US State Department.
He also noted that the eight-day resistance of Palestinian people is because of resistance missiles, leaving Zionist regime in darkness.