Iran
Ayatollah Rafsanjani emphasizes clerics' role in preservation of Islamic Revolution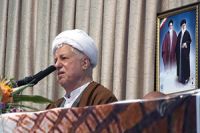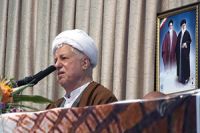 Iran's Expediency Council Chairman has underlined unique role of the Shiite and Sunni clerics in elaborating the true principles of Islam and preservation of the Islamic Revolution.
According to IRNA, addressing a group of clerics and congregational prayers leaders from the western province of Kermanshah, Ayatollah Akbar Hashemi Rafsanjani, said Monday night that the Sunni and Shite clerics have played important role in describing the Islamic principles and in preservation of the Islamic Revolution.
He warned about the sedition to create discord among Shiites and Sunnis as an element to the detriment of the world of Islam and said the religious seminaries have been sources of paramount help in shedding light on the Islamic principles and thoughts.
In the meeting, Ayatollah Ulama, the Leader's representative in Kermanshah, noted that the progress made in the country is indebted to the guidelines of the Leader of the Islamic Revolution Ayatollah Seyyed Ali Khamenei and acting at the order of the Velayat-e Faghish (the governance of the source of jurisprudence) and said "today, the Leader's wise positions have affected the world."
Meantime, Mamosta Mollah Mohammad Mohammadi, Kermanshah's Friday Prayer Sunni Leader, addressed the participants and said unity and sympathy with different schools of thoughts in the province is exemplary and a source of pride for the Islamic Iran.