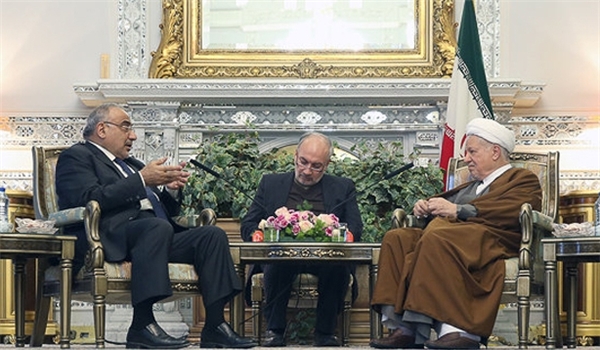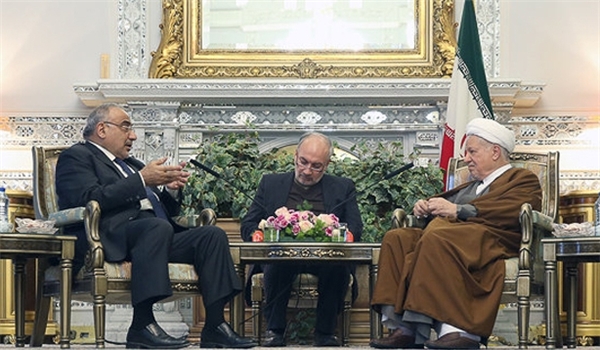 Chairman of Iran's Expediency Council Ayatollah Akbar Hashemi Rafsanjani said Iraq's recent victories against the Islamic State of Iraq and the Levant (ISIL) can lead to the annihilation of the Takfiri terrorist group throughout the world.
"The world has come to know now that defeating ISIL should begin in Iraq," Rafsanjani said in a meeting with visiting Iraqi Oil Minister Adil Abd al-Mahdi in Tehran on Monday.
He pointed out that Iraq's victories over the Takfiri terrorists in recent months showed that an all-inclusive government stops the growth of the terrorist groups, and that no power can defeat a united people.
The Iraqi oil minister, for his part, briefed Rafsanjani on the latest developments in Iraq and the Iraqi army's upper-hand in the battle against ISIL.
Al-Mahdi said discussions over joint oilfields, export of petrochemical products and oil price set the agenda for his talks with Iranian officials, and added, "We are ready for full cooperation with Iran …"
The Iraqi oil minister referred to the background of Iraq-Iran cooperation in the past and the two countries' role in supplying the world's needed oil, and said, "Some regional countries, despite sustaining financial losses, have blocked the recovery of oil prices to their real value, and Iraq and Iran are needed to continue their cooperation in this regard."
Al-Mahdi is in Iran to discuss energy issues, specially production in joint oil fields, in meetings with senior Iranian officials, including his counterpart Bijan Namdar Zanganeh.
Iran and Iraq agreed in July 2013 to pursue development of their joint oilfields through setting up joint companies under a single management. The two countries have also held comprehensive expert talks on the same issue.
Azadegan oilfield is the biggest oilfield which is owned jointly by Iran and Iraq.
Other joint Iran-Iraq oilfields are Yaran, Naftshahr, Azar and Karkheh.
Under the agreement signed in July 2013, the two countries will establish joint ventures to carry out the exploration and development of joint oil and gas fields.
The two sides also agreed to work together to settle territorial and ownership differences.
Iran, which sits on the world's second largest natural gas reserves after Russia, is making efforts to raise its gas production by increasing foreign and domestic investments, especially in South Pars gas field.