Iraq
Ayatollah Sistani urges Iraqi forces to protect peaceful demonstrators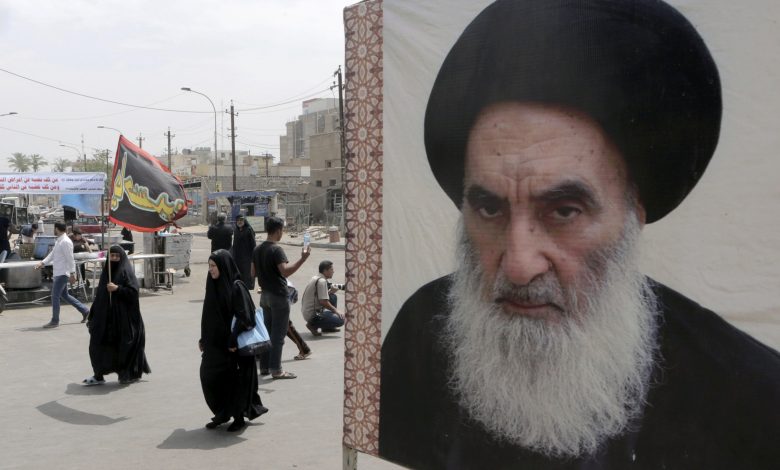 Iraq's prominent Shia cleric Grand Ayatollah Ali al-Sistani has called on security forces to protect peaceful demonstrators in protest squares across the country, and reveal the identities of aggressors and infiltrators.
In a statement read out by his representative Ahmed al-Safi during a weekly sermon in the holy city of Karbala on Friday, Ayatollah Sistani condemned the death of protesters killed in clashes with rival groups this week as "painful and unfortunate," and said state security forces are "indispensable" to keeping the country from "falling into the abyss of chaos."
"There is no justification for them to stop fulfilling their duties in this regard, or for anyone to stop them from doing so," he said.
Two top Sadrist commanders killed in 24 hours in IraqTwo commanders of Iraqi Shia cleric Muqtada al-Sadr's movement are killed in separate attacks in Iraq.
"They must bear responsibility for maintaining security and stability, protecting peaceful protesters and their gathering places, revealing the identities of aggressors and infiltrators, and protecting the interests of citizens from the attacks of saboteurs," the revered cleric pointed out.
Ayatollah Sistani went on to call on Prime Minister-designate Mohammed Tawfiq Allawi to pick a government representative of the Iraqi people and fully trusted by them.
"The new government that replaces the outgoing one should be worthy of people's confidence and is capable of alleviating situations and restoring the state prestige and to carry out necessary steps to hold early elections," Iraq's top Shia cleric highlighted.
Iraq's Sadr calls for calm, normalcy after new prime minister appointedIraq
On Sunday, Iraq's Shia cleric Muqtada Sadr called for the return to normal life, and urged his supporters to ensure the reopening of schools, roads and government offices that had been shut by months of demonstrations.
"I advise the security forces to stop anyone from cutting off roads and the ministry of education should punish those who obstruct regular working hours, be they students, teachers or others," Sadr wrote in a message published on his Twitter page.
Since early October, Iraq has been roiled by mass protests over poor living conditions and corruption, which forced ex-premier Adel Abdul-Mahdi to resign.
The demonstrations have often turned violent and over 600 people, including police forces, have been killed and 17,000 injured, according to an Iraqi human rights group.
Iraq's President Barham Salih last week tasked Allawi with forming a government within a month – a decision rejected by some protesters.
Iraqi president appoints Mohammed Tawfiq Allawi as new premierThe Iraqi president has appointed Mohammed Tawfiq Allawi as the Arab country's new prime minister.
The appointment of Allawi as prime minister-designate was expected to end the protest rallies, but the demonstrations have continued across Iraq against the new premier.
The holy city of Najaf, in particular, has in recent days been a scene of violent clashes, which some Iraqi politicians blame on the US and Saudi Arabia.
Fatah Alliance lawmaker Abdul Amir Taiban says the Najaf violence is an American-Saudi plot to distract the Iraqi people's attention from the expulsion of US troops from the Arab country, which has been demanded by the Iraqi Parliament.