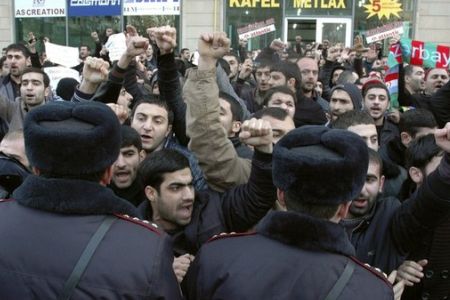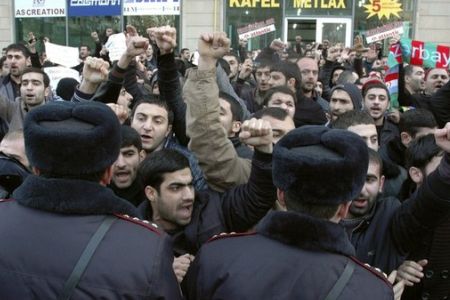 Thousands of people in Azerbaijan have protested restrictions on hijab in the country as a pro-Islamic sentiment continues to grow in the former Soviet state.
The demonstrators took to streets of Baku on Friday and gathered in front of the education ministry building to protest against illegal restrictions for hijab-wearing students and women in Azerbaijan, a Press TV correspondent reported.
The peaceful demonstration turned violent when police and security forces used batons and tear gas to disperse slogan-chanting protesters.
The street protests came on the heels of remarks by Azeri Education Minister Misir Mardanov who, commenting on some schoolgirls wearing headscarves, said all children must wear school uniforms.
Azerbaijan reintroduced Soviet-era uniforms to secondary school students this year, sparking outrage in the predominantly Muslim country.
"What does it mean when a 16-year-old girl sits in a class with her head covered?" Mardanov questioned. "There is a school uniform and children should come to school in these clothes."
"Everyone can wear whatever they want outside the school, but there are some rules and laws in the classroom."
The minister's secular comments come while dozens of students wearing scarves have been banned from school in the past two weeks.
The Friday protests were held amid tightened security in Baku and a heavy police presence on the streets of the capital.
The Israeli embassy in the Baku, which is not located in the immediate vicinity of the education ministry office, was also heavily guarded by Azeri security forces amid fears of escalating anti-Zionist and anti-Israeli sentiments in the country.
Muslim communities in Azerbaijan blame the growing secularism in the country on Tel Aviv and accuse Israel of being behind anti-Islamic programs during the Shia mourning month of Muharram and the Muslim fasting month of Ramadan.
Azeri police arrested more than 10 people during the Friday demonstrations.