Iran
Bahraini Deputy FM: Iran's Presidency to Improve NAM's Clout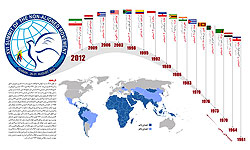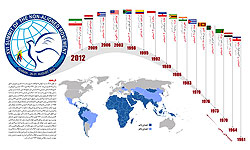 Bahraini Deputy Foreign Minister Hamad al-Amir described Iran as an important country of the region, and said Tehran's presidency over the Non-Aligned Movement will increase NAM's power and influence in international developments.
"Iran is a friendly country and one of the important Islamic states and we are very happy that Iran has assumed the summit's presidency and wish victory and success for Iran in hosting the conference," Amir told FNA on Monday.
"Actually, the NAM under the leadership and presidency of his Excellency Mr. Mahmoud Ahmadinejad, will be more influential than the past," he added.
The 16th NAM summit started in Tehran on Sunday and will last to August 31. At the start of the meeting, Iran assumed the rotating presidency of the movement from Egypt for three years.
Senior experts and deputy foreign ministers from the NAM member states started a meeting here in the Iranian capital on Sunday.
The meeting will draw up the agenda for the 16th heads-of-state summit meeting of the bloc to be held in the Iranian capital on Thursday.
The experts meeting will be followed by the NAM's foreign ministers meeting on August 28-29. The heads-of-state summit of the bloc has been arranged for the two following days.