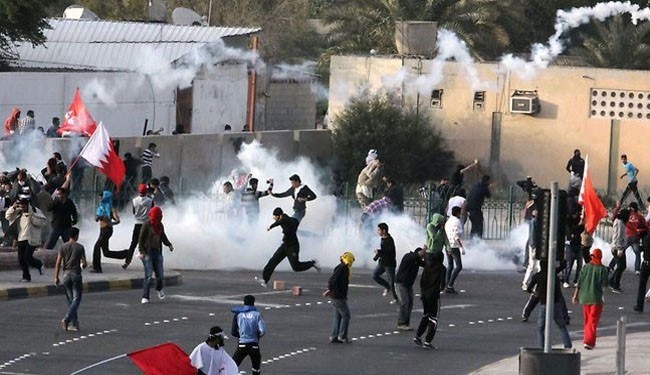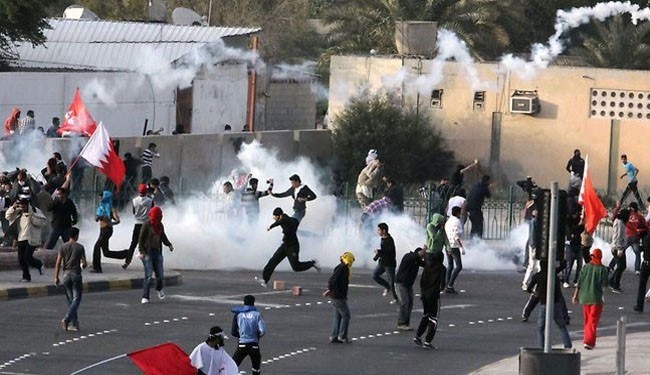 Saudi-backed security forces in Bahrain have targeted private homes near the capital Manama with tear gas as part of their persisting crackdown on anti-regime protesters.
Bahraini regime forces reportedly chased a group of young demonstrators in the village of Sanabis, nearly 6 kilometers (3.5 miles) west of the capital, and fired toxic tear gas at them, going as far as launching tear gas canisters inside the homes of some fleeing protesters.
In yet another protest rally against the ruling Al Khalifa regime in the village of Nabih Saleh, to the south of Manama, a group of women chanted anti-regime slogans.
Moreover, in the western village of Shahrakan, a number of young protesters waged a rally against an earlier attack on a holy shrine by regime forces.
The uprising in Bahrain began in mid-February 2011. Protesters initially called for political reforms and a constitutional monarchy. However, the demand later changed to an outright call for the ouster of the Al Khalifa family following its brutal crackdown on popular protests.
On March 14, 2011, troops from Saudi Arabia and the United Arab Emirates were called in to assist the Bahraini regime in its crackdown on the peaceful protests.
Scores of people have been killed in the crackdown, and security forces have arrested hundreds, including doctors and nurses. Dozens of demonstrators have also been sentenced to jail terms for attending street protests.
Physicians for Human Rights says doctors and nurses have been detained, tortured, or have disappeared because they have "evidence of atrocities committed by the authorities, security forces, and riot police" in the crackdown.