Bahrain
Bahraini regime's intention to hijack religious activities, insane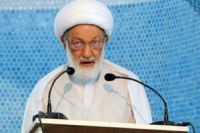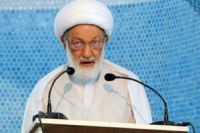 The prominent Bahraini cleric, Ayatollah Sheikh Issa Qasem, has said that the effort of Bahraini regime to somehow hijack religious activities is a hollow imagination, and a childish and insane thought.
According to IRIB World Service, citing Al-Manar TV Network, delivering the sermons of this week's Friday Prayers at Imam Jafar Sadeq (PBUH) Mosque, west of the Bahraini Capital, Manama, Ayatollah Issa Qasem said the decision of Bahraini officials to dissolve the Islamic Council of Ulema of this country was made previously, and was announced with a delay.
He added that such measures are intent on obstructing the process of talks, which could have ended in fulfillment of needed reformations in Bahrain.
This prominent Bahraini cleric pointed out that targeting the Islamic Council of Ulema of Bahrain is an insult against the sacred religion of Islam and people. This order which has been issued by the Bahraini officials is resentful and politically-motivated, and is aimed at driving a wedge among different strata of people.