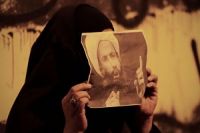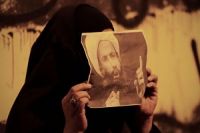 Angry protesters have staged a rally in Bahrain to condemn the death sentence handed down by a Saudi court to prominent Shia cleric, Sheikh Nimr Baqir al-Nimr, and voice solidarity with the dissident Saudi religious scholar, Press TV reports.
On Thursday evening, the demonstrators took to the streets in the village of al-Diraz, west of the capital Manama, and denounced the Saudi government for issuing the verdict against Nimr.
Meanwhile, Bahrain's main opposition bloc, al-Wefaq National Islamic Society, has warned that Nimr's execution could further complicate the situation in Saudi Arabia, calling on Saudi officials to release the Shia cleric.
On Wednesday, Nimr was sentenced to death at the Specialized Criminal Court in the Saudi capital, Riyadh. In reaction to the sentence, people took to streets in the city of Qatif in Eastern Province to condemn the move.
Amnesty International has called the death sentence "appalling," saying the verdict should be quashed.