Bahrain
Bahrainis hold mass rallies over Sheikh Salman detention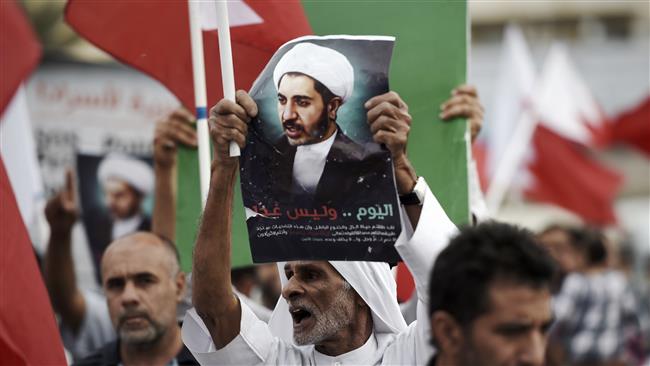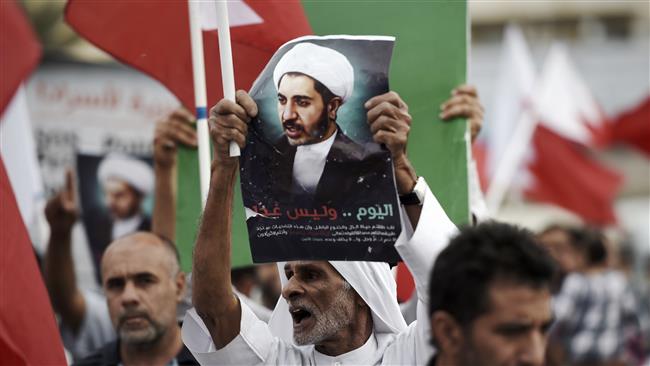 Bahraini people have staged nationwide protests to voice their opposition against the continued detention of the country's main opposition leader Sheikh Ali Salman.
Mass protest rallies were held in several cities including the capital Manama to show support for Sheikh Salman, the secretary general of Bahrain's main opposition bloc, al-Wefaq National Islamic Society.
The protesters called for the immediate release of Sheikh Salman as well as other political prisoners.
The mass rallies follow a decision earlier this week by a Bahraini court to adjourn the trial of the detained Shia opposition leader until April 22 and to extend his remand once again.
Sheikh Salman is charged with seeking to overthrow the Al Khalifah regime and collaborating with foreign powers. The opposition leader has strongly denied the allegations.
Al-Wefaq has slammed the court decision saying the charges against the prominent cleric are baseless and adding that the illogical charges brought up against Sheikh Salman can never lead to his conviction as the cleric has only "called for justice, equality and the building of a sate on the bases of democracy where the people are the source of all powers."
Bahrainis protests against the detention of Sheikh Ali Salman in the village of of Jidd Hafs, west of Manama, on February 25, 2015. (AFP photo)
The opposition leader was detained in December 2014. His arrest has triggered condemnation inside and outside Bahrain, with leaders, governments and international organizations across the world calling for his immediate release.
Bahrain has been witnessing almost daily protests against the Al Khalifa regime since early 2011, when an uprising began in the kingdom. Since then, thousands of protesters have held numerous rallies in the streets of Bahrain, calling for the Al Khalifa royal family to relinquish power.
The Manama regime has been severely criticized by human rights groups for its harsh crackdown on anti-government protesters, which has claimed the lives of scores of people so far.