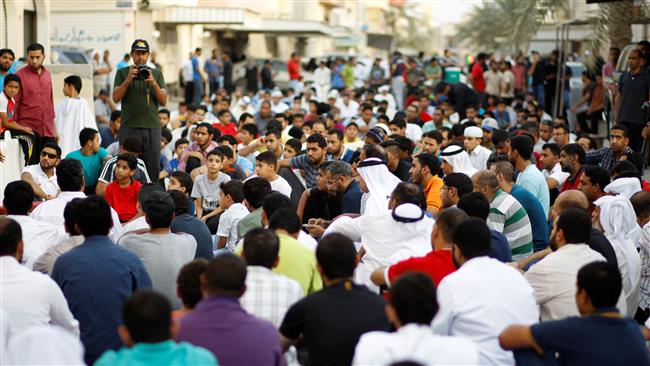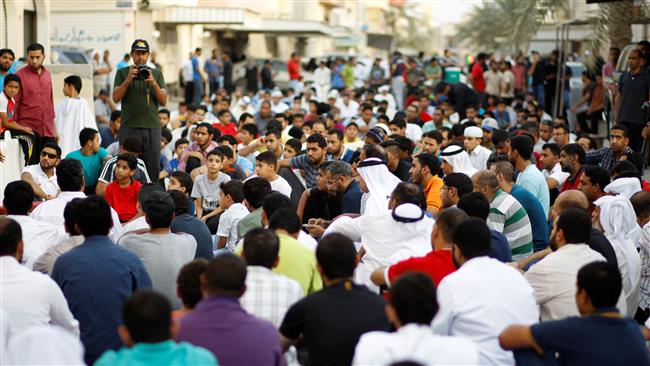 Dozens of Bahrainis have staged fresh protest rallies in the tiny Persian Gulf kingdom in condemnation of the Al Khalifah regime's recent decision to strip prominent Shia Muslim cleric, Sheikh Isa Qassim, of his citizenship.
On Wednesday evening, demonstrators took to the streets in Bilad al-Qadim, a suburb of the capital, Manama, to express their outrage at the measure against the 79-year-old spiritual leader of Bahrain's main opposition bloc, the al-Wefaq National Islamic Society.
Regime forces fired a number of teargas canisters and rubber-coated steel bullets to disperse the crowd.
A similar rally was staged in the northern village of Sehla, where protesters hurled petrol bombs at regime forces. The latter used teargas in response to break up the rally.
Elsewhere in the northwestern village of Diraz, situated about 12 kilometers (7 miles) west of Manama, people gathered outside Sheikh Qassim's home to voice solidarity with the top clergyman.
The developments came a day after protesters demonstrated in Bilad al-Qadim and the villages of al-Musalla, Bu Quwah and Diraz and the town of A'ali, chanting slogans against the ruling Al Khalifah regime.
The protesters carried national flags and the portraits of Sheikh Qassim, and prominent Bahraini opposition figures.
The Al Khalifah regime's June 20 move against Sheikh Qassim came less than a week after the Bahrain's Justice Ministry suspended al-Wefaq, and dissolved opposition Islamic Enlightenment Institution and al-Risala Islamic Association.
Since February 14, 2011, thousands of anti-regime protesters have held numerous demonstrations on an almost daily basis in Bahrain, calling for the Al Khalifah family to relinquish power.
In March that year, troops from Saudi Arabia and the United Arab Emirates were deployed to the country to assist the Bahraini government in its crackdown on peaceful protests.
Scores of people have been killed and hundreds of others injured or arrested in the Bahraini crackdown on the anti-regime activists.