Bahrain
Bahrainis to Stage Massive Anti-Regime Protest Rally in Manama Friday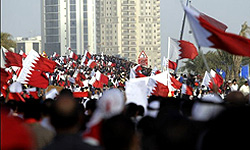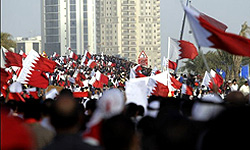 Bahraini activists invited people throughout the country to stage a massive anti-regime protest rally in Manama on Friday to show their wrath and condemnation of the several-day-long siege of the al-Akr town by the al-Khalifa army and security forces.
The opposition group, the Coalition of the Youth of the February 14th Revolution, in a statement, said that a massive protest rally will be held in Manama on Friday to voice sympathy and solidarity with the resistant people of the al-Akr town, adding that "Break the Siege of Al-Akr" will be the main motto to be chanted by the people in Friday rally.
Also, the Bahraini people are due to hold a ceremony after the Thursday noon prayers titled 'Prayers Revolution' to pray for the improvement of freedom and human rights situation in their country.
Bahrain's police and security forces surrounded al-Akr town, South of Manama, last week and cut the roads and transfer of food supplies to the town after a bomb attack on Thursday allegedly killed one policeman and injured another following clashes between protesters and the Saudi-backed security services.
"The Al-Khalifa regime has imposed a siege on the al-Akr town and prevents its people's access to food supplies under the pretext of the killing of one of its elements who was involved in the suppression of people's peaceful protests in the town," Secretary-General of Bahrain's National Democrat Society Fazzel Abbas said on Sunday.
He stressed the necessity for an end to the al-Akr siege and investigations into the killing of the policeman in the city, and told the Iran-based al-Alam news network that the killed person was a foreign national.
Bahrain's al-Vafa al-Islami stream also on Sunday condemned the al-Akr siege, and underlined, "The Bahraini regime's story about the killing of a policemen in al-Akr village is an excuse to assume the extensive deracination of people as permitted."
Anti-government protesters have been holding peaceful demonstrations across Bahrain since mid-February 2011, calling for an end to the al-Khalifa dynasty.
Violence against the defenseless people escalated after a Saudi-led conglomerate of police, security and military forces from the Persian Gulf Cooperation Council (PGCC) member states – Saudi Arabia, Kuwait, the United Arab Emirates, Oman and Qatar – were dispatched to the tiny Persian Gulf kingdom on March 13, 2011, to help Manama crack down on peaceful protestors.
Tens of protesters have been killed by the al-Khalifa's security forces, hundreds have gone missing and thousands of others have been injured since the start of the Islamic Awakening in the tiny Persian Gulf country.