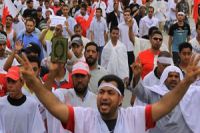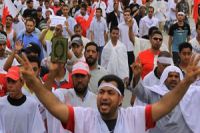 Bahraini forces have attacked protesters holding a demonstration against the Al Khalifa regime in the village of Eker.
According to IRIB, the Saudi-backed regime forces attacked a group of youth protesters and beat them during the demonstration on Tuesday. Several people were injured and arrested.
On December 23, police attacked the demonstrators who had thronged the streets in several towns and villages, chanting slogans against King Hamad bin Isa Al Khalifa.
The uprising in Bahrain began in mid-February 2011.
The Manama regime promptly launched a brutal crackdown on peaceful protests and called in Saudi-led Arab forces from neighboring states.
Dozens of people have lost their lives in the crackdown, and the security forces have arrested hundreds, including rights activists, doctors and nurses.
Bahraini demonstrators say they will continue holding anti-regime protests until their demand for the establishment of a democratically elected government is met.