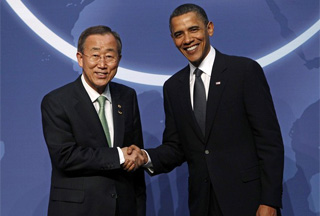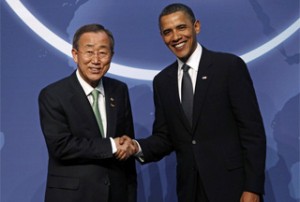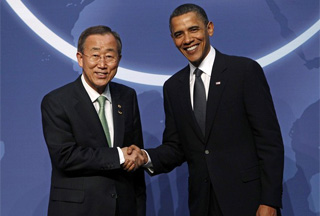 Following on from the US president's nuclear security summit, the UN has called for a series of talks on preventing terrorists from acquiring nuclear material.
Addressing reporters after a Washington nuclear summit, UN Secretary General Ban Ki-moon warned that even one terrorist attack could inflict mass casualties "and change our world forever."
To avoid such a prospect, the UN chief proposed five areas where he asserted urgent global action is required, among them preventing nuclear terrorism, securing nuclear fissile material and achieving progress on both nuclear disarmament and nuclear non-proliferation.
Recalling the International Convention for the Suppression of Acts of Nuclear Terrorism adopted by the General Assembly five years ago, Ban pointed out that so far only 65 countries, which make barely a third of UN member states, have ratified it.
"This is far from satisfactory," he stressed, while urging a conference on disarmament to immediately start negotiations on banning the production of fissile material for nuclear weapons or other nuclear explosive devices.
Ban also proposed strengthening the role of the UN International Atomic Energy Agency (IAEA) to fight nuclear terrorism.
He however followed White House's suit in singling out Iran, a signatory to the Nuclear Non-Proliferation Treaty (NPT), over its nuclear issue, urging Tehran to restrict its civilian atomic energy program.
This is while the UN chief once gain turned a blind eye to Israel's nuclear program, who is strongly believed to be the sole possessor of nuclear warheads in the Middle East and is not a signatory to the NPT.