Bangladesh ferry disaster kills 25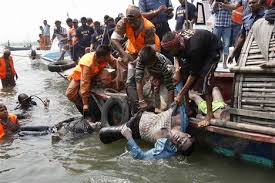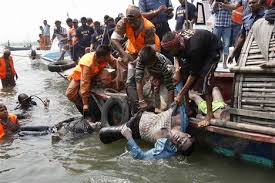 At least 25 people have been killed when a ferry capsized and sank in central Bangladesh, with scores more feared to have perished in the disaster.
According to officials, up to 200 passengers might have been on the ferry when it sank to the bottom of the river Meghna on Thursday, some 50 kilometers (30 miles) southeast of the capital Dhaka.
Survivors have blamed the captain of the MV Miraz for refusing to take shelter from a storm and a probe has been launched into whether the ferry had been carrying more than its capacity.
"The sky became black and dozens of us pleaded with him to take the ship to the nearest shore as we saw the storm coming. He did not listen to us," survivor Mohammad Ali said.
"The storm unleashed three huge waves. The ferry survived the first two, but the third tilted and then sank the vessel within minutes," he added.
Divers on Friday tried to recover bodies trapped in the wreckage of the vessel.
"Many of the passengers rushed to lower decks of the ship to escape from heavy wind. They were trapped. I am afraid most of the bodies will be found there," Bangladesh's water transport authority chief Shamsuddoha Khandaker said.
The exact number of the people aboard was not immediately known since Bangladeshi ferries do not keep passenger logbooks.
"It is a mid-sized ferry and was about 90 feet long. It can carry around 500 passengers without cargo. But from what we have gathered so far, it was carrying around 150-200 passengers at the time of the accident," Khandaker further said.
Meanwhile, local police chief Ferdous Ahmed noted that the death toll at present stands at 25, including 15 women and children.
Bangladesh, one of Asia's poorest countries, is no stranger to ferry accidents. Experts blame poorly maintained boats, flaws in design and overcrowding for most of the deadly disasters.
About 150 people lost their lives in Bangladesh in March 2012 when an overcrowded ferry carrying some 200 people sank after being hit by an oil barge.