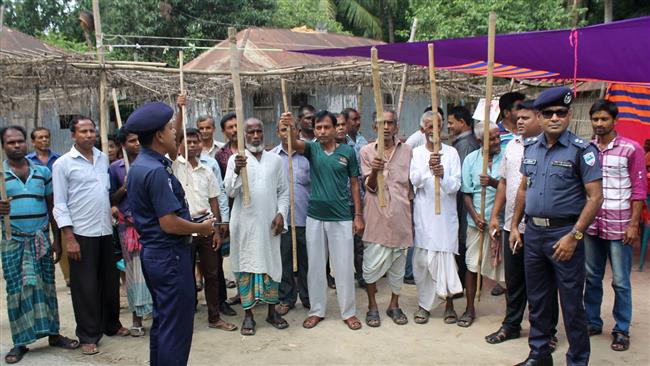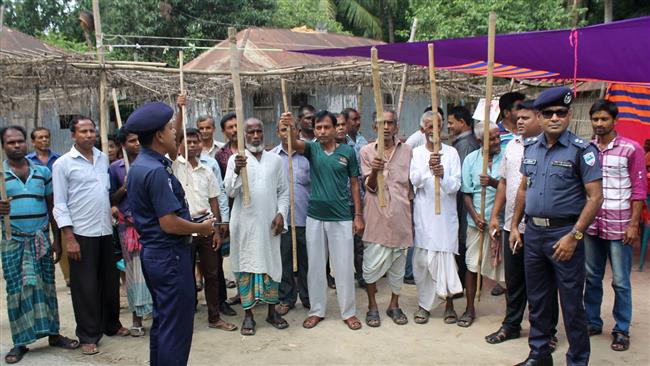 Bangladesh police have armed villagers in the country's western regions with bamboo sticks and whistles to avoid militants' attacks on members of the minorities.
Officers said on Wednesday that the move was aimed at empowering people to act against militants who killed secular intellectuals and people of minority faiths.
This came after a Hindu priest was killed in a rice field in western Bangladesh.
Ehsan Ullah, the police chief in Magura district in western Bangladesh that has a large Hindu population, said, "We want to change the scenario. We want the people to be cautious, safe and united against militancy and other crimes."
He noted that arming people with sticks and whistles were mainly aimed at raising morale among the locals.
"Almost all recent (militant) attacks took place during a time when roads were empty and the local community was busy with farming or asleep," he added.
Daesh has claimed responsibility for the murder of the Hindu priest and other attacks.
The government, however, has rejected the claims and blamed the banned group of Jamaat-ul-Mujahideen Bangladesh (JMB) for the spate of gruesome murders in recent months.
Earlier this week, police arrested some 8,200 suspects in a major police crackdown
Bangladesh Prime Minister Sheikh Hasina has pledged that her administration will make sure that "each and every killer" is arrested.
Hasina has accused the main opposition Bangladesh Nationalist Party and its ally Jamaat-e-Islami of spearheading the attacks to destabilize the country.
Opposition parties have accused the government of using the crackdown to suppress political dissent, claiming that many of those arrested were ordinary and innocent people.
Hasina leads a secular government in a country where about 90 percent of the population of 160 million is Muslim.