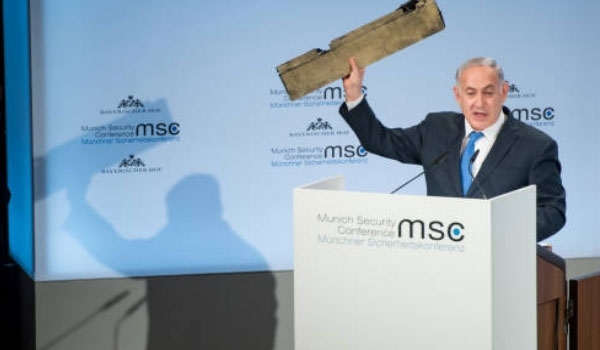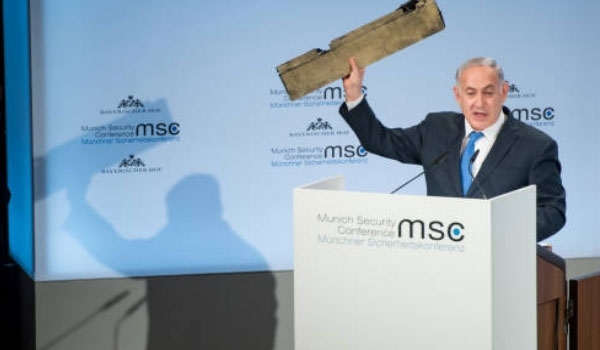 "Benjamin Netanyahu goes crazy by Iran's name and its growing power and he considers Iran as a threat to the world as if Iran is a superpower with thousands of nuclear warheads like the US, Russia and China," Atwan wrote on Monday.
He referred to Netanyahu's remarks at the Munich Security Conference on Sunday claiming that his regime could "act" directly against Iran, showing off what he called a piece of an Iranian drone which the Israeli military claims to have downed more than a week ago, and said, "This could be Netanyahu's first and last speech at the Munich conference before 600 participants."
Atwan added that Netanyahu's claims at the Munich conference was a repetition of his past allegations at the UN General Assembly meeting in 2012 in which he showed a cartoonish illustration as he described his alleged concerns over Iran's nuclear ambitions.
He underlined Iran's growing power against Israel, and said, "Iran's strategy is based on fighting against the Israeli enemy and it enjoys high preparedness for making sacrifices in addition to enjoying the military and field capabilities."
In response to the Israeli prime minister, Iranian Foreign Minister Mohammad Javad Zarif lashed out at his remarks against Iran at the Munich Security Conference as "cartoonish circus".
"You were the audience for a cartoonish circus just this morning, which does not even deserve the dignity of a response. So let's move to more serious issues," Zarif said, addressing the participants in Munich Conference on Sunday.