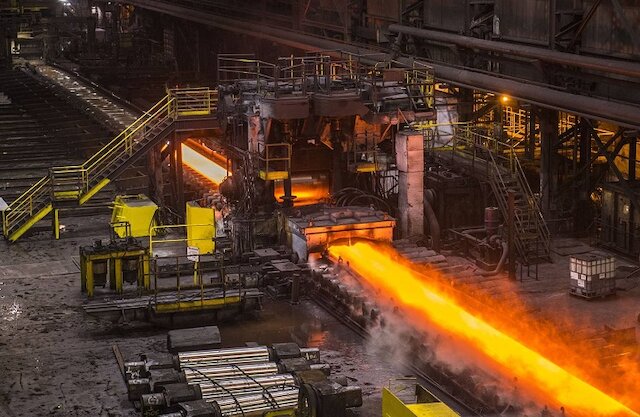 "If the Islamic Revolution hadn't taken place, Iran would have been much more advanced, at least in terms of industry." This is a statement, which the world's mainstream media outlets insist on. However, aside from the media's politically charged type of viewpoint regarding Iran and subjects related to it, do the statistics and field research show Iran after the Islamic Revolution to be a desperate and stagnant country in the industrial fields? To find the answer to this question, the following text is a documented report about the situation of industry in Iran before and after the Islamic Revolution. It is worth noting that the data used in this report comes from research work carried out by international organizations.
Steel
One of the main pillars for economic growth and development is the creation of sustainable development structures, of which mining and the mining industry—particularly steel—are among the most important ones. The production and consumption of steel are considered to be one of the main indicators of a country's development. In addition to its prominent role in the development of countries, the steel industry's considerable impact on the process of increasing the level of knowledge, job creation, research, education, and trade is undeniable. It should be noted that the steel industry is known as a key industry in the world. After oil and gas, it is the second most traded commodity in the world. According to the statistics provided by the World Steel Association, there are only 70 countries active in the steel industry. Countries lagging behind in steel industry, on the one hand, turn into importing countries; and would become deprived of the foundational role the growth of such industries plays in each country's economic system, on the other.
During the Pahlavi era, Iran chiefly found itself wrestling with an import-oriented attitude in the realm of industry and production. In Pahlavi Iran, this attitude was so dominant that "heavy inputs of foreign capital, personnel, and imports were favored by official policies" (Keddie and Richards 157).[1] The Revolution in 1979 revolutionized Iran's political spirit and mindset, which inevitably led to a series of essential and methodological changes in the economic and industrial sections, favoring self-sufficiency and independence over other options. The same outlook has made Iran one of the top 10 steel producing countries in January 2019 according to a report published by Economic Times.­ [2]It is to be said that Iran's post-revolutionary spirit, favoring self-reliance and -sufficiency over dependence within different sections of industry, resulted in a production of 25 million tons of steel in this country in 2018. It is 19 times more than the steel produced in 1978, which marks the end of the Pahlavi period.
In 1977, the number of large factories producing essential metals was 47, with 6,777 employees. In 2015, this number increased to 677 factories, and the number of employees in these factories grew to 130,620. In 1977, there were 477 factories active in building metallic machinery, tools, equipment and products, employing a workforce of 57,724. In 2015, the number of factories and workers soared to 2,562 and 127,004, respectively.
Cement
In recent decades, Iran has moved rapidly in cement production and has seen a growth in this fundamental industry, which has been a key to many product development projects. For example, Iran has exported 48 thousand tons of cement to the United Arab Emirates in just 6 months.[3] Other countries, such as Russia, Uzbekistan, Afghanistan, and Kazakhstan are among the main destinations for Iran's cement exports. Rich in mineral reserves, such that cement can be manufactured almost anywhere in the country, Iran has been able to reduce a major part of the costs related to transporting raw material to the factory and keep this industry at maximum profitability. In addition, Iran has been able to become self-sufficient to a great extent regarding the technology of extraction and production of cement. Despite United States sanctions, Iran produced more than 50 million tons of cement in 2018, which shows a 25-fold jump compared to its production in Iran before the Revolution. (In his book A Regional Guide to Iran, Harvey Henry Smith estimated Iran's cement production to be around 2 million tons in 1968.[4]) Statista reports Iran as the 11th in the world in cement production in 2018.[5]
Aluminum
The industry for the extraction and production of aluminum is another industry in the Islamic Republic of Iran where considerable progress has been made. This industry has a significant advantage over other industries in the global markets. Due to its strength, low weight, high recyclability, and complying with the principles of environmental protection, aluminum is a highly strategic product in the modern era. According to the United States Geological Survey (USGS), in 2016 Iran produced more than 355 thousand tons of aluminum, the amount which earns the 21st place in the world for this country. This amount of production, compared to 1977 when Iran produced approximately 21 thousand tons of aluminum, shows a 17-fold growth. According to a report by Aluminum International Today (AIT), "Iran seeks to increase annual output of aluminum to more than 800,000 tons by March 2022, and more than $11 billion will be attracted in investment to bring the figure to 1.5 million tons by 2025."[6]
Copper
Copper was one of the first metals to be discovered by human beings. Interestingly, today it still appears among the first ranks in terms of usage and function. Areas where this metal is used include: civil engineering projects, power generation, electronics manufacturing, heating and cooling systems, automobile industry, etc. Today, Iran ranks 13th in the world in terms of production and share in the global copper industry.[7] Iran's copper industry, during the Pahlavi regime in 1977, was ranked last among Asian copper producers, lower than countries such as India, Japan and Turkey. However, post-revolutionary Iran surpasses most Asian countries such as Turkey and India in terms of copper production. The interesting point about the Iranian copper industry is its growth rate in recent years. According to a report published by Mining.com, Iran's copper output will outperform in the coming years, averaging yearly growth rates of 13% through 2020, compared to just 2.1% during the past five years. Copper production is expected to top 500,000 tonnes."[8]
Electricity
Before the Revolution, there were only three million electricity consumers in Iran, while today, 98 percent of the country's population has access to electricity. This means nearly 80 million people. The unique point about the Iranian electric power industry is that the price of electricity in Iran is very low compared to the rest of the world.[9] This has made it possible for industries to produce products at lower prices. Countries such as Armenia, Afghanistan, Azerbaijan, Turkey, Turkmenistan, Pakistan, and Iraq are the target export markets for Iranian electricity. Iran currently ranks 16th in the world by producing more than 312,000 GWh of electricity annually.[10] The following chart shows the amount of electricity produced in Iran before and after the Islamic Revolution.
Conclusion
Despite the unprecedented economic sanctions imposed by the domineering powers on Iran in recent decades, and especially in recent years, the country has made dramatic advances in industry since the establishment of the Islamic Revolution. Contrary to the Pahlavi regime's approach, highly dependent on imports and oil revenues to supply the country's needs, especially from Western countries and the United States, Iran has sought to stimulate domestic production and strengthen its industrial power after the Islamic Revolution. This approach has led to huge growth (tens of times) in Iranian key industries and placed it among the top 10 countries in the world. Therefore, economic sanctions against Iran have caused this country to realize that the right and effective way to deal with these sanctions and to maintain its political and economic independence from the domineering powers is to strengthen its industrial power within the country and become a supplier and exporter instead of an importer and consumer.
---
[1] Keddie, Nikki R., and Yann Richard. Modern Iran Roots and Results of Revolution. Yale Univ. Press, 2006.
[2] https://economictimes.indiatimes.com/industry/indl-goods/svs/steel/india-replaces-japan-as-second-top-steel-producer-worldsteel/articleshow/67721395.cms?from=mdr
[3] https://www.globalcement.com/news/item/10168-uae-imports-48-000t-of-cement-from-iran-s-qeshm-free-trade-zone-in-six-months
[4] Smith, Harvey H. Area Handbook for Iran. Vol. 550, Issue 68, U.S. Gov. Print. Off., 1971.
[5] https://www.statista.com/statistics/267364/world-cement-production-by-country/
[6] https://aluminiumtoday.com/news/iran-opening-first-phase-of-1-billion-aluminium-smelter
[7] https://www.indexmundi.com/minerals/?product=copper&graph=production
[8] https://www.mining.com/resurgent-iran-impact-copper-zinc-prices-2020/
[9] https://www.globalpetrolprices.com/Iran/electricity_prices/
[10]  https://www.theglobaleconomy.com/rankings/electricity_production_capacity/
Source: khamenei.ir