Human Rights
Belgians protest against economic inequality in Brussels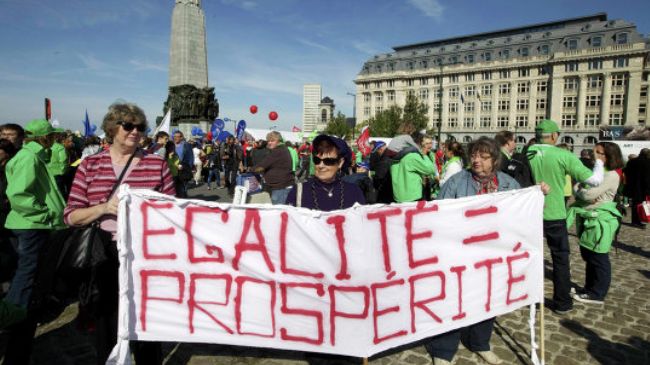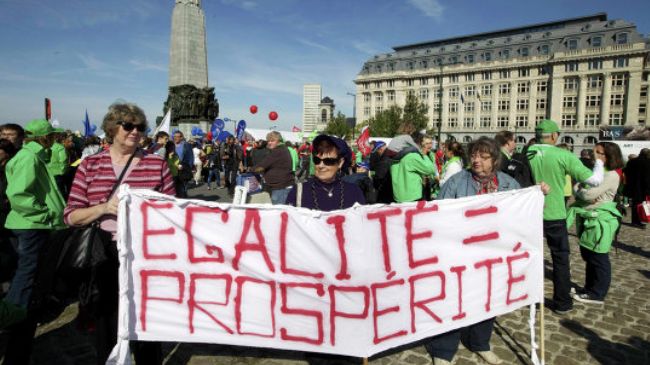 About 1,500 protesters have gathered outside the Justice Minister in the Belgian capital Brussels to voice their anger over increasing economic inequality in the European country.
The protesters rallied in the capital on Sunday to voice their opposition to the anti-crisis measures proposed by the government to deal with the ongoing financial difficulties in the eurozone.
The protesters said that the government's measures have widened the gap between the rich and the poor in the country.
"In Belgium 15 percent of the population is living on the edge of poverty and that is a lot for one of the world's richest countries," said Peter Eiman, an organizer of the protest.
"From November 1 there will be a cut in unemployment benefit to make sure there a so-called return of the unemployed to working activity. The Federal Government intends to take 380,000 people out of poverty by 2020, but these measures will increase the number in poverty," he also said.
Various eurozone member states, including Greece, Spain and Italy, have been struggling with deep economic woes since the bloc's financial crisis began roughly five years ago.
The worsening debt crisis has forced EU governments to adopt harsh austerity measures and tough economic reforms, which have triggered incidents of social unrest and massive protests in many European countries.