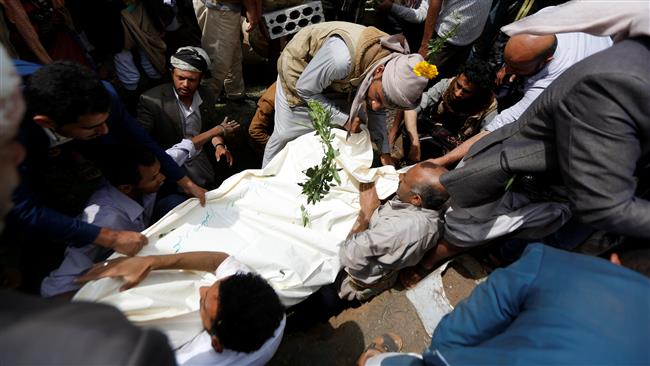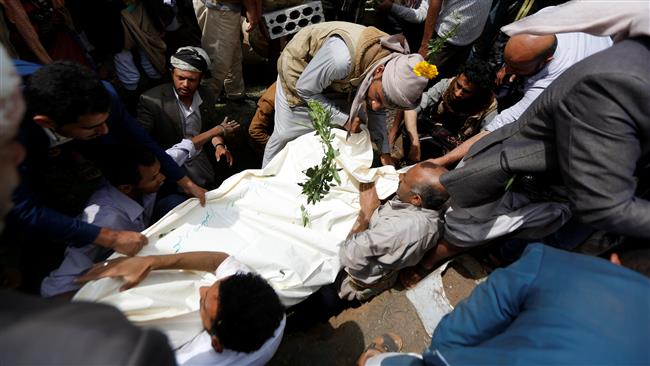 The relatives of the Yemeni civilians killed in a recent Saudi-led airstrike have laid their loved ones to rest, vowing to mobilize and take revenge from the Saudi-led coalition waging war on their country.
At least 60 civilians died in an airstrike by the Saudi-led coalition on a hotel in the Arhab district of the capital Sana'a on Wednesday.
Locals buried the bodies of 22 of the victims on Sunday. A large convoy of emergency services vehicles were seen transporting the bodies, which were later buried in a funeral attended by a large number of people.
"We buried them today. All these people coming here proves how angry the Yemeni people are at this crime committed against them," said Abdullah al-Mosheki, a relative of one of the victims.
"Two of my sons were martyred in the Arhab massacre by the Saudi aggression, they were civilians though and they used to work in agriculture," said another individual, Ahmad al-Jehizei.
He appealed to the international community and the United Nations "to hold the perpetrators of this crime accountable and punish them for it."
Another relative at the funeral, Ahmad Zaeid, said the Yemeni civilians were growing restless.
"We will mobilize ourselves and our forces to fight on the front and take revenge," he said.
Saudi Arabia has been leading a group of its allies in a non-UN-sanctioned war on Yemen since March 2015. Yemeni sources say at least 12,000 people have died in the war so far.
The Saudi regime has come under criticism over mounting civilian casualties. While coalition forces are receiving military assistance from the United States and the United Kingdom — including in the form of intelligence sharing and target acquisition — they have been increasingly hitting civilian targets.
US officials have said that incompetent Saudi pilots, fearing ground fire, have been flying their jets too high to be able to deliver weapons accurately.
On Thursday, hundreds of thousands of people flooded the streets of Sana'a to condemn the airstrike in Arhab.
The UN has said it would be investigating the Saudi-led airstrike; but it is unclear what impact its potential findings would have on the Saudi-led coalition.
Just two days after the attack in Arhab, another Saudi-led airstrike in Sana'a killed 14 civilians. The Friday bombing targeted residential buildings in the Faj Attan neighborhood of the city.
On Saturday, the Saudi-led coalition admitted that the airstrike in Faj Attan had been caused by a "technical mistake."
But the coalition has remained defiant about the deadly airstrike in Arhab, saying it hit a legitimate military target.
Apart from the thousands of civilian casualties, the Saudi-led war has also caused a cholera epidemic and shortages of food across Yemen. Millions of people face disease, hunger, and displacement caused by a war that Saudi Arabia seems unapologetically determined to continue.