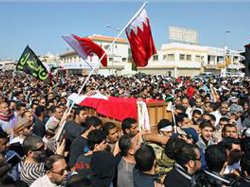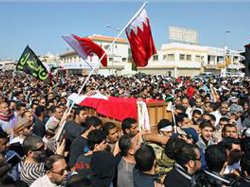 Berlin's traditional May Day demonstration condemned on Sunday the ongoing brutal repression in Bahrain, while calling for an immediate withdrawal of all Saudi military forces from the tiny Persian Gulf kingdom.
Waving numerous Bahraini flags, demonstrators strongly condemned the crimes committed by the Bahraini regime.
They urged the release of all political prisoners in Bahrain and a full international
probe of massive human rights violations in that country.
Demonstrators deplored the desecration of mosques by the Bahraini regime.
Protesters demanded a swift pullout of Saudi troops from Bahrain.
At Manama's request, several Arab Persian Gulf states, notably Saudi Arabia and the United Arab Emirates, have dispatched troops to help quell the uprising in the country in March, a move which the Bahraini opposition has branded 'an occupation.'
Meanwhile, protesters lambasted western countries, namely the US and European Union, for their double-standard when dealing with the brutal crackdown of the Bahraini regime.
Dozens of Bahraini protesters have been killed in government crackdowns which included also the use of live ammunition, according to human rights activists.
Hundreds of people had been arrested, and hundreds more were fired from their jobs for participating in pro-democracy demonstrations against the Bahraini regime which began in mid-February.