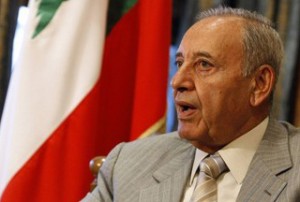 The Lebanese Parliament Speaker Nabih Berri has urged the Arab League (AL) to reject calls for indirect talks with Israel.
"The League should follow the examples set by Lebanon and Syria in rejecting indirect negotiations with Israel," Berri said on Friday.
"Once again, we will not rush to condemn Israeli aggression, and state the obvious, since we have already called on Arab [countries and institutions] to take a step that goes beyond condemnation, and get back to the root of facing occupation," he added.
"We should revert to implementing the decisions of the Central Boycott Office of Israel, and take the necessary steps to expose the practices of the occupation forces in all international arenas," Berri emphasized.
The Lebanese official further called for supporting the Palestinians in light of the recurrent Israeli threats.
On Friday, Israeli troops surrounding the Al-Aqsa Mosque since the early morning hours, raided the compound of the holy site in the occupied East Jerusalem Al-Quds and cordoned off the premises to push out the Palestinian worshippers who had gathered for the weekly Friday prayers.
The move triggered protests that quickly turned violent after Israeli forces fired tear gas canisters and stun grenades at demonstrators, leaving 60 Palestinians injured.