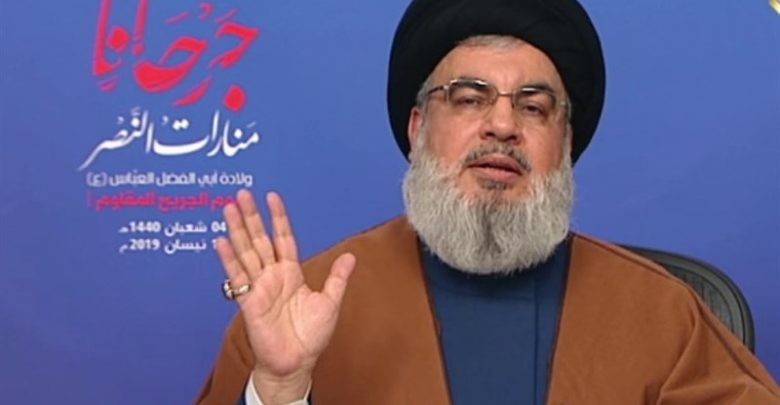 "US impudence and folly went beyond limits when it branded Iran's IRGC as a terrorist organization. The force has made a great deal of sacrifice in order to stand against the US and Israeli hegemony in the region. We, hereby, condemn the US decision, and express our support for our friends at the IRGC," Seyed Hassan Nasrallah said as he addressed his supporters via a televised speech broadcast live from the Lebanese capital Beirut on Wednesday evening, Press TV reported.
He then described the US as the main source and sponsor of terror in the world, emphasizing that Washington humiliates a whole nation for the sake of the "terrorist" Israeli regime and terror outfits.
Nasrallah also highlighted that resistance fighters have well managed to thwart US plots in the Middle East, noting that the IRGC designation was rooted in America's rancor against the force as it is strong and challenging Washington's conspiracies.
"Blacklisting the IRGC and Hezbollah is a proof of our strength not weakness. It is our fundamental right besides a humanitarian and moral duty to confront all those who threaten us and our achievements. The resistance front has many cards up its sleeve to respond to US sanctions and measures," the Hezbollah chief pointed out.
Nasrallah further noted that the US and Saudi Arabia are doing their utmost in a bid to sow the seeds of discord and division among Muslim nations in the Middle East, emphasizing that the Riyadh regime is helping Washington to liquidate the Palestinian cause so as to appease Israel.
He went on to say that US President Donald Trump offered Israeli Prime Minister Benjamin Netanyahu major concessions in the wake of the regime's general elections.
The Hezbollah leader then lamented the ongoing Saudi-led military aggression against impoverished Yemen.
"What would have happened to Persian Gulf countries and monarchies if totalitarian (Saudi Crown Prince) Mohammed bin Salman had emerged victorious in the war on Yemen? Had Bin Salman won in the war, he would have forced the Palestinians to sign (Trump's so-called) deal of the century," the Hezbollah secretary general commented.
He stressed that the incumbent US administration, Trump, in particular, insists on continuation of the Saudi-led onslaught against Yemen.
Elsewhere in his remarks, Nasrallah touched upon the US policy of incitement and sedition in Lebanon, underlining that Washington is still pressing ahead with its fiendish bids despite the failure of Secretary of State Mike Pompeo's visit to the Arab country.
"The US is seeking to pit Lebanese factions against each other. The US move of blacklisting Hezbollah allies in Lebanon is just a theatrical move. People from all walks of life in Lebanon must cooperate together and avoid reacting to US acts of sedition. Only unity and resistance guarantee Lebanon's freedom, sovereignty and stability," the Hezbollah chief concluded.