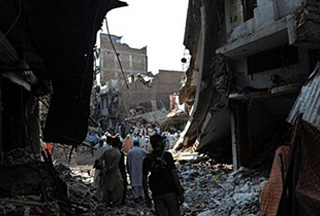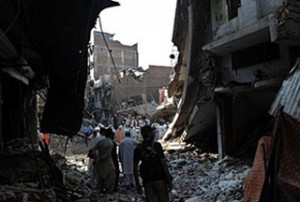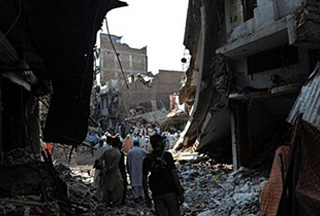 Pakistan's pro-Taliban militants blame private US security firm Blackwater for a Wednesday bomb blast in Peshawar which killed over 100 people.
Hakimullah Mehsud, head of the Tehrik-e-Taliban, said Blackwater and some Pakistani agencies were involved in the bomb explosion at a crowded market in Peshawar.
According to the latest reports, the death toll has mounted to 106 with over 150 injured while rescue workers say that more people could still be buried under the debris. Most of the dead were women and children.
Pakistan army says since the militants are facing defeat in the South Waziristan tribal region, they are now targeting the people.
Mehsud has rejected the claim, saying the US security firm Blackwater, in collaboration with some local agencies, were involved in the attack.
On Sunday, about 200 supporters of the Tehrik-e-Taliban party held an anti-US demonstration in Dera Ismail Khan, denouncing Blackwater and chanting anti-US slogans.
The provincial chief of the Jamat-e-Islami party, Saraj-ul-Haq, said that the Pakistani operation against militants, which is being conducted 'with the consent of America', should be stopped as it only fulfills the aims of the enemy.
"Now this is sure, that all the blasts, either carried out on Faisal Mosque or Khyber Bazaar, are carried out by Blackwater," he said.
About 28,000 soldiers are battling an estimated 10,000 pro-Taliban militants, including about 1,000 tough Uzbek fighters and some Arab members.
Analysts have warned of the possibility of more violence as the militants come under pressure in South Waziristan.