General
Blind American man teaches kids to read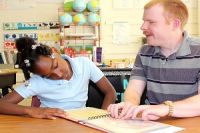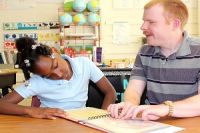 Jeff Balek is a 34-year-old blind man who volunteers as a reading buddy at the Readers Program in Charlotte, North Carolina to help children learn to read.
Although he has never actually seen a book, nothing has stopped him from teaching struggling kids how to read, Tasnim news agency reported.
Balek reads along with the second- and third-graders in Braille and helps them when they stumble on difficult words.Balek uses twin vision books to read along with the children, reading a page in braille then listening to them read the next in print.
Balek's story serves as a great reminder to kids that handicap is not inability.