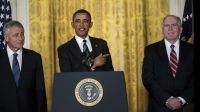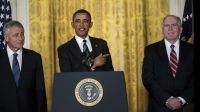 US President Barack Obama has nominated former senator Chuck Hagel as his next defense secretary and tapped his chief counterterrorism adviser John Brennan to lead the Central Inteligence Agency (CIA).
According to AP, Obama chose Hagel on Monday to replace Leon Panetta at the Pentagon for his second-term, despite political uproar over the nomination.
Obama said at a press conference in White House that Hagel, an outspoken critic of Zionist regime, is "the leader our troops deserve," praising his "willingness to speak his mind."
Hagel left the Senate in 2008. He sometimes spoke against Zionist regime, voted against sanctions on Iran, and even made blunt comments about the influence of the "Jewish lobby" in Washington.
The 66-year-old was the first Republican senator to publicly criticize the war in Iraq, calling it the worst foreign policy blunder since the Vietnam War, and has consistently opposed any plan to launch a military strike against Iran.
Also on Monday, Obama picked Brennan as the new director of the CIA.
Brennan, a 25-year CIA veteran, will succeed retired general David Petraeus, who resigned from his post due to a scandal over an extramarital affair with his biographer, Paula Broadwell, on November 10, 2012.
Brennan was under Obama's consideration for the top CIA position in 2008. However, he refused to take the job amid questions about his links to enhanced interrogation tactics during his service in the CIA under former President George W. Bush.