North America
Blood thirsty zionist Trump asks Congress to raise military spending by $6bn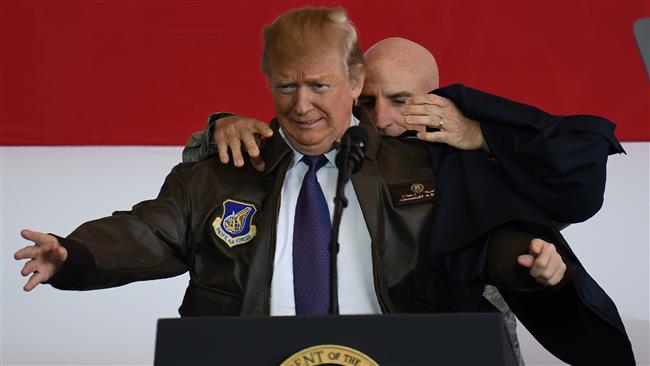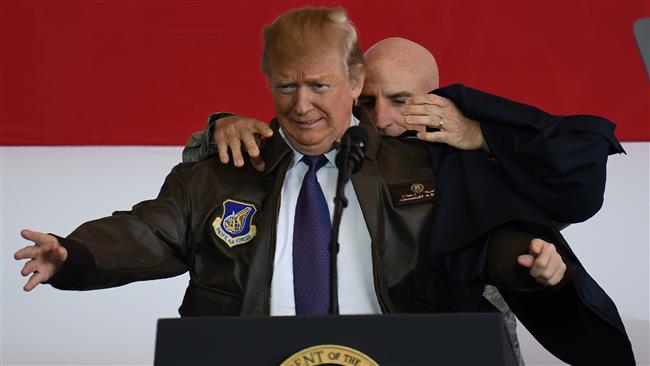 Touring Asia to muster support for stronger action against North Korea, US President Donald Trump has asked Congress to raise military spending by $6 billion.
As the American head of state was preparing to leave Japan on Monday, news broke that he had asked lawmakers for $4 billion to complete the installation of the Terminal High Altitude Area Defense (THAAD) system in South Korea.
Washington says the system is supposed to defend Japan and South Korea from the North's missiles, but Russia and China say the THAAD's advanced radar could spy on their territories.
The budget request also includes $1.2 billion to fund his request for sending 3,500 additional troops to Afghanistan, part of a new plan that he unveiled in August to prolong US military presence in the war-torn country.
The remaining $700 million will be used to repair two US Navy ships in the Pacific fleet — USS John S. McCain and USS Fitzgerald — which were heavily damaged in deadly collisions earlier in the year.
The senate passes a massive military bill for the year 2018 that includes about $640 billion in base military spending and $60 billion to carry out wars abroad.
Trump landed in Seoul on Tuesday to meet with South Korean President Moon Jae-in at the Blue House and meet with US and South Korean troops.
Tens of thousands of US troops have been stationed in the South, which has been a major ally of the US after they jointly fought the North during the Korean War in the early 1950s.
North Korea warns US over Pacific drills
Meanwhile, North Korean government officials told CNN on Monday that Washington's actions could "ignite another Korean War."
"Nobody knows when and how the 'war maniac' Trump will ignite the 'wick of war,'" the officials said, referring to the presence of US aircraft carriers near the Korean Peninsula.
The warning came after US officials said three US Navy aircraft carriers were slated to hold a mock battle in the Western Pacific, as Trump toured the region.
US officials say three aircraft carrier strike groups will exercise together in the Western Pacific in the coming day as President Trump is on a tour to Asia.
The aircraft carriers USS Nimitz, USS Ronald Reagan and USS Theodore Roosevelt and a number of guided-missile destroyers will take part in the war games, the first time the three aircraft carrier strike groups have exercised together in the region in a decade.
A Japanese destroyer, the Inazuma, will also join the armada later on, two Japanese government officials said. The warship has already taken part in a separate three-day exercise with the USS Reagan and two Indian navy warships in the Sea of Japan that ended Monday.
The four US officials and two Japanese sources who informed Reuters of the drills refused to disclose its precise date or location. The Pentagon and the Navy's Pacific Fleet also refused to give further details.