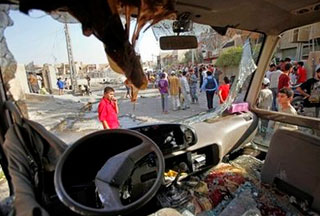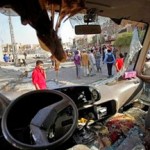 Explosions in Baghdad and central Iraq kill at least eight and injure 45 others, all civilians, the interior ministry reported.
Two car bombs, one near a cafe and another outside an apartment block, occurred in the eastern mixed Shia-Christian Baghdad neighborhood of al-Amin, within five minutes of each other killing eight people and injuring 30.
The third car bomb was in a market in the Shaab suburb of northeast Baghdad which injured nine people, an interior ministry official told AFP on condition of anonymity.
Meanwhile, in Baquba, north of the capital, a roadside bomb hit a travelling passenger car wounding a six-year-old boy, a local security official said.
Another roadside bomb in the town of Abara, outside Baquba, capital of the Diyala Province, injured two soldiers.
In yet another incident on a road leading to the Jordan border in Saqlawiya district, three traffic police were wounded as a result of a roadside bomb explosion.
The attacks came a day after 51 people were killed in bombings near the restive northern Iraqi city of Mosul and in the capital — the deadliest day since US troops pulled out of urban centers across Iraq at the end of June.
Although violence has reduced in recent months, attacks on civilians and security forces continue in Baghdad, Mosul and in the ethnically divided northern oil-rich city of Kirkuk.