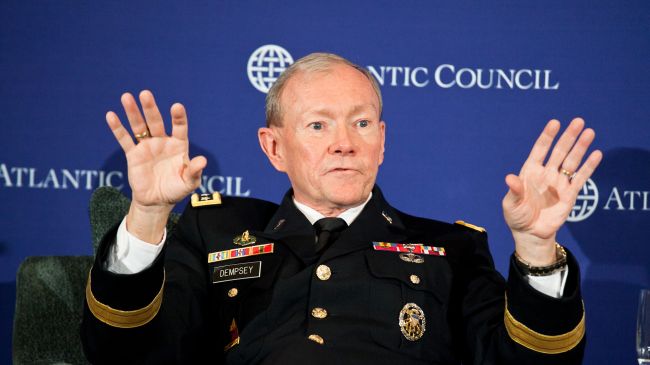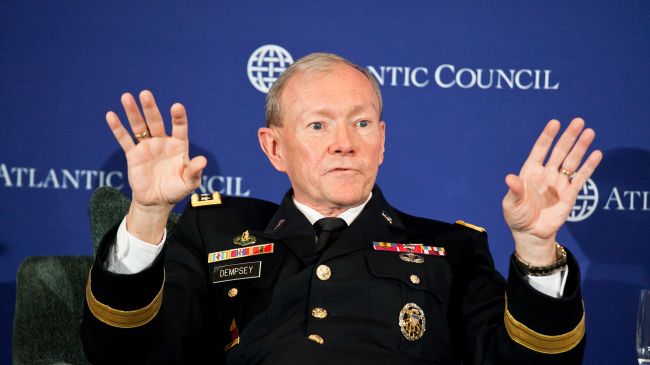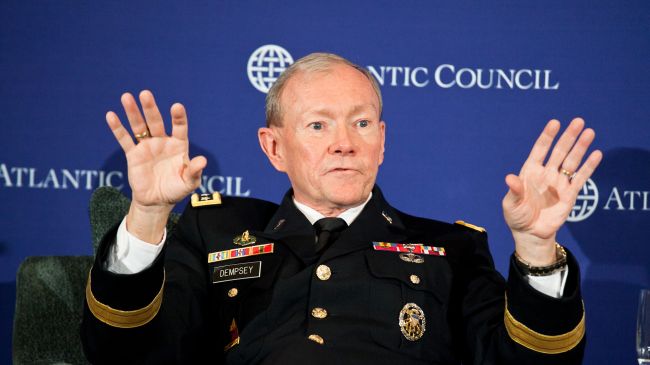 General Martin Dempsey, chairman of the Joint Chiefs of Staff, says the United States is not providing militants in Syria what they would need to oust President Bashar al-Assad.
The militants have no force capable of waging attacks against the Assad government and "and we're not on a path currently to provide that," Gen. Dempsey said Wednesday at the Atlantic Council, a NATO-oriented think tank in Washington DC.
Dempsey, a former division commander in the Iraq war, maintained that the foreign-backed militancy needed far more than just a rescue mission.
"They need something that eventually will be able to hold ground. And they need a counter-terror capability – all of which is responsive to Syrians," he stated.
America's highest-ranking military officer offered a dour assessment about the future of Syria and warned that a succession of conflicts was likely to erupt even if the government was ousted from power.
"I've heard it described as a succession of conflicts. You have the conflict that currently exists; then there'll be the second conflict, which is kind of an internal conflict; and then there'll be the third conflict against the terrorist organizations that are growing," Dempsey said. "That's probably right."
The Persian Gulf Arab states have pressed the United States to provide more powerful weaponry to the militant groups in Syria, including shoulder-fired anti-aircraft missiles capable of shooting down warplanes and helicopters.
On Wednesday, US Secretary of State John Kerry embarked on a trip to the Middle East with a focus on the Syrian conflict. The top diplomat will meet with the foreign ministers of the key nations supporting the Syrian opposition, including Britain, France, Egypt, Germany, Italy, Jordan, Qatar, Saudi Arabia, Turkey and the United Arab Emirates, according to Foreign Policy magazine.
In a private meeting with Syrian opposition leaders at the State Department last Thursday, Kerry said the US and its allies "wasted a year" in Syria by failing to coordinate efforts to overthrow President Assad.
Meanwhile, evidence of a covert military aid effort by the United States can be found in recent photos and videos showing militants with US- made antitank missiles. The BGM-71 TOW (Tube-launched, Optically-tracked, Wire-guided) missiles are emerging in the Arab country as part of a "pilot program" to boost the morale of the downhearted insurgency.