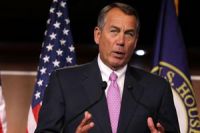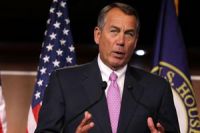 US House Speaker John Boehner says his country is heading towards default over its debt unless President Barack Obama agrees to hold talks with Republicans over their differences on how to reopen the government and avoid a potential default.
Boehner made the remarks on ABS's "This Week" after the host asked him whether the nation is going to default if Democrats continue to ignore GOP's demands over cut spending and change parts of the Affordable Care Act, also known as Obamacare.
He replied, "That's the path we're on".
He also admitted that failure to raise country's debt ceiling would have "catastrophic" consequences for the American economy.
The US House Speaker said President Obama has his phone number and can call him anytime for that purpose.
Democrats say they are ready to negotiate with Republicans but only after they agree to end the government shutdown.
The US House Speaker also said that he cannot meet White House's demand to raise the debt limit or pass a clean stopgap spending measure because he does not have enough votes.
This is while, Democrats and some moderate Republicans in the House say there are enough votes to pass a spending measure necessary to reopen the government.
The standoff between the two dominant parties over the budget shut the government six days ago and put some 800,000 of its employees out of work.