North America
World News
Boeing vows to ensure safety of planes after Ethiopia crash
US aviation giant, Boeing, has vowed to implement further measures to ensure the safety of its airliners following last month's deadly crash in Ethiopia, which occurred less than five months after another crash in Indonesia.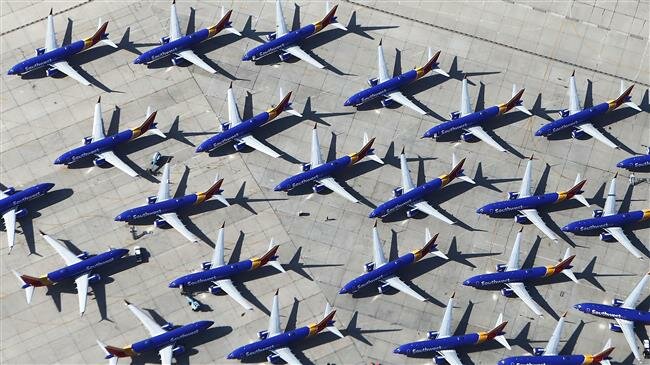 "We will carefully review the … preliminary report and will take any and all additional steps necessary to enhance the safety of our aircraft," Kevin McAllister, head of Boeing's commercial aircraft division, said in a statement on Thursday.
The statement came hours after Ethiopian investigators said the pilots of a doomed Boeing 737 MAX 8 had repeatedly followed Boeing's recommended procedures prior to crashing on March 10, which killed 157 people.
More than 300 Boeing 737 MAX planes have been grounded globally following the disaster.
The preliminary findings by Ethiopian investigators put the world's largest aviation company under even greater pressure to restore confidence in clients and demonstrate the airworthiness of planes that crashed twice in less than five months.
The embattled company says it plans to release a software fix to the anti-stall system used aboard the 737 MAX aircraft in the coming weeks.
US regulators this week demanded further improvements to a proposed fix before it could be submitted for review.
The Ethiopian probe appeared to confirm suspicions about the so-called Maneuvering Characteristics Augmentation System (MCAS), with data echoing that from the crash of the Indonesian Lion Air 737 MAX 8 flight in October last year which killed 189 people.
According to a draft copy of the preliminary investigation of the Ethiopian crash, shortly after take-off, a sensor recording the level of the plane began transmitting faulty data, prompting the autopilot system to point the nose downwards.
"The crew performed all the procedures repeatedly provided by the manufacturer but was not able to control the aircraft," said Ethiopian Transport Minister Dagmawit Moges, unveiling results of the preliminary probe into the crash.
PressTV-FBI joins criminal investigation into Boeing 737 MAXThe FBI has joined the criminal investigation into the certification of the Boeing company's 737 MAX.
Ethiopia is leading the investigation, though the black boxes were sent to France because Ethiopian officials were initially reluctant to share information with US investigation teams and the plane maker.
The FBI has joined the criminal investigation into the certification of the Boeing 737 MAX. The investigation was launched by US Department of Transportation.
US lawmakers and safety experts are questioning how thoroughly US aviation regulators vetted the MAX model and how well pilots were trained on new features.