Africa
Boko Haram overruns northeastern Nigerian town, kills 11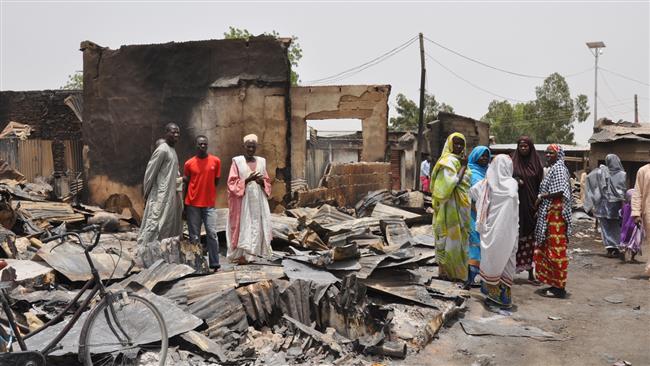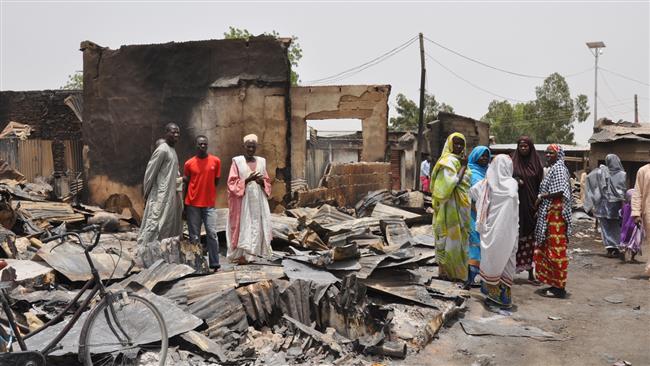 The Takfiri Boko Haram militants have attacked a town in Nigeria's northeastern state of Borno near the border with Cameroon, killing nearly a dozen people.
The killings took place after hundreds of Boko Haram terrorists stormed the town of Gamboru, located some 700 kilometers (434 miles) north of the capital, Abuja, following the withdrawal of about 2,500 Chadian troops from the Nigerian territory last week.
"Boko Haram gunmen returned on motorcycles to Gamboru yesterday (Wednesday)… and shot dead eight people," Mudi Dankaka, a local of the nearby Cameroonian town of Fotokol, said. He added that three more people were killed on Thursday.
Another Fotokol resident, Umar Ari, said Nigerian forces have not been spotted in Gamboru, leaving the area exposed and with no security presence since the Chadian troops' pullback.
Boko Haram Takfiris had earlier massacred dozens of women in Bama – a city of about 200,000 people located just 75 kilometers (45 miles) northwest of Borno state's capital, Maiduguri.
This file photo shows Takfiri Boko Haram militants at an undisclosed location in Nigeria.
Nigeria's states of Adamawa, Borno and Yobe have been the scene of six years of Boko Haram violence, which has claimed over 13,000 lives and displaced a further 1.5 million people since 2009.
In May 2013, all the three states were put on a state of emergency while troops and civilian forces pushed the militants out of the urban centers into remote rural areas. In November 2014, Nigerian President Goodluck Jonathan tried to extend the state of emergency for a third time but the country's parliament blocked the move.
Boko Haram, whose name means "Western education is forbidden" and controls part of the northeastern Nigeria, recently declared allegiance to the Takfiri ISIL group, which is perpetrating heinous crimes in the areas under its control in Iraq, Syria, and Libya.
Nigerian troops backed by soldiers from Chad, Niger and Cameroon have been carrying out operations in recent months to secure and stabilize the northeast before the country's presidential vote.
The vote, which was initially scheduled for February 14, was postponed to March 28 due to concerns over security on polling day.